Current Local FHA Mortgage Rates
Here is a table listing current FHA home loan rates in your area.
FHA Mortgage Rates
History of FHA Mortgages
Federal Housing Administration (FHA) mortgages were originally created in response to the Great Depression of 1934. They were designed to make home ownership more accessible to the lower and middle class, stimulate the economy, and facilitate lending by insuring the mortgage so that lenders were protected if the borrower defaulted. Although there have always been caps on FHA mortgages and FHA refinancing, over the years, ceilings for FHA mortgages have increased. The ceilings for FHA mortgages vary and are based on the median housing prices in each area and the number of units if the dwelling is multiple-units. In some areas, FHA mortgages are available for as much as $729,750. If you are considering homes in more than one county, it may make sense to research the FHA mortgage lending caps in each county since they may be different. The official HUD website offers a feature showing the FHA mortgage ceilings for counties across the country.
The Popularity of FHA Mortgages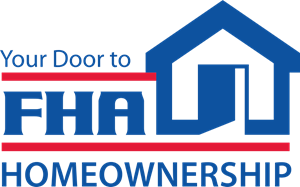 In the 1930s, when FHA Mortgages originated, the program made borrowing more accessible and helped boost the economy out of the depression. However, as economic growth boomed in the current century, lenders became more confident and began servicing riskier borrowers with conventional mortgages. Conventional mortgage program included loans with 0% down while FHA mortgages continued to require at least 3% down. Loans over forty or fifty years also became more available. In addition, the mortgage insurance premiums and origination fees of FHA mortgages made interest rates higher for some applicants depending on their credit background and the rates they were offered so they chose conventional mortgages. As defaults increased and homes failed to retain their values, 0% down loans became virtually non-existent except under the Veteran's program. Unemployment increased and home owners who had good credit in the past were unable to afford their homes. Thus, FHA loan applicants began to increase since FHA loan qualifications are more forgiving about past credit problems than conventional loans. FHA Commissioner David Sterns estimates that approximately 40% of home mortgage applications are for FHA loans.

Use our FHA loan qualifier or quickly estimate your FHA loan closing costs.

Benefits of FHA Loans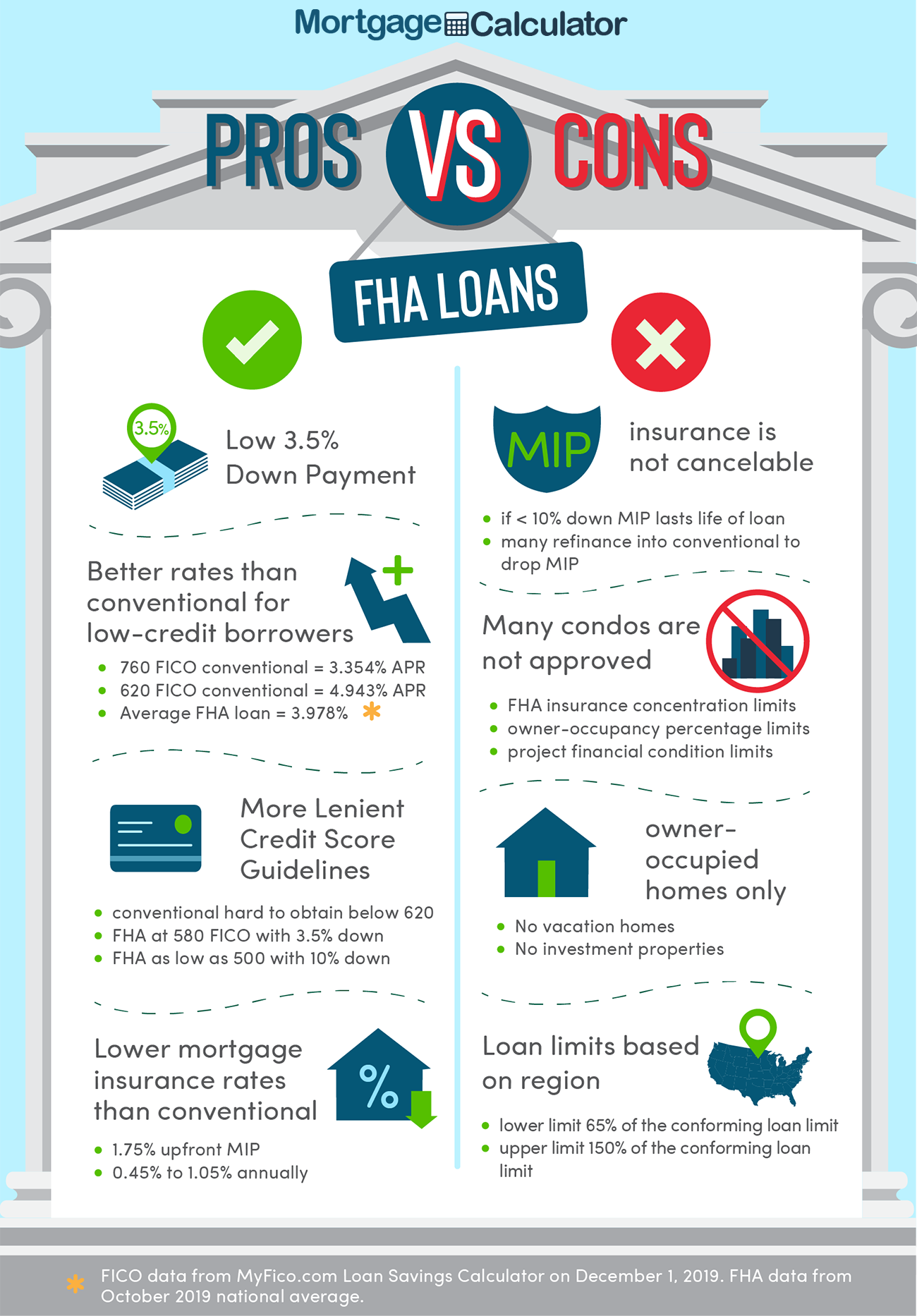 While federally insured mortgages are less risky to lenders, there are also many benefits that make FHA mortgages attractive to borrowers.
Borrowers qualifying for FHA mortgages may only be required to put down 3.5%-10% of the purchase price in comparison to an average of 20% of the purchase price required by most conventional loans.
First time buyers are still eligible for a 10% tax credit, up to $8,000.00 for homes purchased by April 1, 1010.
Under the Obama regime, homeowners who have lived in their homes for a minimum of five years and have purchased a replacement home by April 1, 2010 may qualify for a $6500.00 tax credit. Purchasers who buy a home that is $800,000.00 or more are not eligible for the tax credit.
While conventional loans do not usually fund housing repairs, FHA mortgages set up an escrow account designated for contractor repairs. The borrower is required to provide estimates for the repair work together with details describing the work needed and the nature of the repairs.
Borrowers who may have had some past credit problems may more easily qualify for a FHA loan because the federally backed mortgage insurance makes them less risky to lenders.
However, the personal credit history will determine the percentage required for down payment from individual borrowers. Nevertheless, the percentage required for a down payment is usually less than a conventional mortgage.
FHA mortgage loans permit down payments to be provided by family members and closing costs can be partially financed by the seller (formerly up to 6%, but more recently changed, to 3%). Often the seller will increase the price of the house in order to finance closing costs so this prevents the home price from being artificially inflated. The lender must be informed of seller financed closing costs and the house price cannot exceed the appraisal value.
FHA mortgages do not allow penalty clauses for prepayment.
FHA mortgages are assumable, which could make your home more attractive to a buyer, particularly since mortgage rates are currently low and are likely to increase by the time you are ready to sell your home.
Closing costs can be financed with the mortgage and are usually lower than conventional mortgages.
Disadvantages or Hidden Costs of FHA Mortgages
FHA mortgages have a calculated percentage price for mortgage insurance of .5% which is calculated into the monthly payments.
FHA mortgages have a defined ceiling per geographic area so if the loan needed is not within the parameters of an FHA mortgage it is not a viable option.
Some borrowers feel that the upfront mortgage insurance premium additional cost to monthly payments is a disadvantage. However, these costs end within five to seven years of purchasing the home and if the loan is repaid within three years, the homeowner may qualify for partial reimbursement.
When shopping for a FHA Mortgage, be aware that loan originators work on commission. Origination fees and special yield fees vary so shop carefully for the best rates.
FHA Mortgages: How are they funded?
Borrowers are required to pay a mortgage insurance premium that is put into a special account that funds the FHA mortgage program. However, when defaults increase, the government must react to make sure that funding remains sufficient.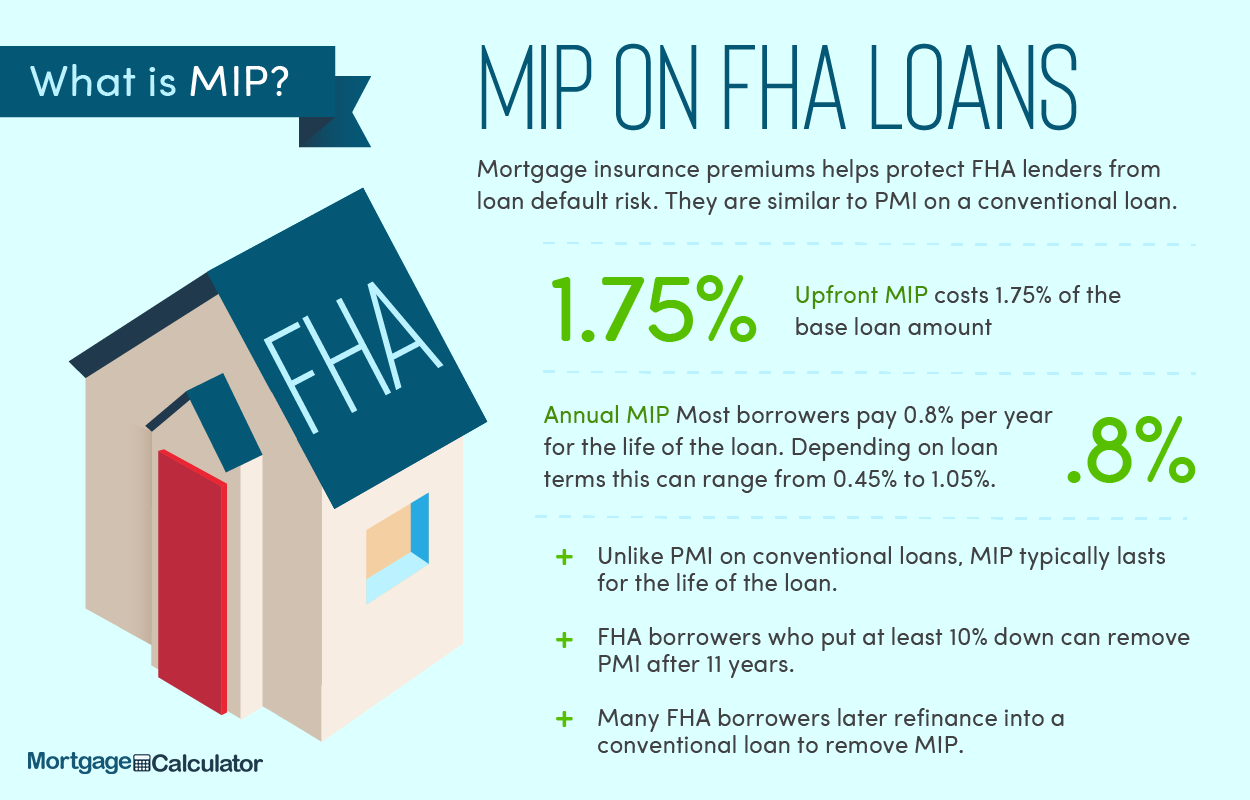 Why are default Rates Higher for FHA Than Conventional Mortgages?
Over the last couple of years, FHA mortgages had higher default rates than conventional mortgages. This can be attributed to several factors:
The small down payment percentage results in a higher percentage of the home cost being financed. Therefore monthly mortgage payments may be higher than what the borrower can afford. Furthermore, in today's economy, it is not uncommon for a source of income to be lost or reduced as employers outsource work overseas.
FHA mortgages allow consumers with lower credit ratings to receive financing. Therefore, borrowers with weaker credit scores and little cash savings were qualifying for loans more easily.
FHA loans require costly mortgage insurance premium (MIP) payments. This means employees who opt for this option are typically lower waged employees who are at greater risk of employment disruption.
Owners who have built up solid equity or who have improved their credit profile may refinance into a conventional loan.
FHA Response to Increased Mortgage Defaults
Since there is an increase in defaulting purchases as well as homes not holding a value equivalent to their mortgages, the requirements for applying for an FHA mortgage have become more stringent. Some recent changes are:
Mortgage insurance premiums will increase and now range from 1.75 to 2.25%. Since defaults have been increasing, a higher mortgage insurance premium will help fund the federal government's increasing costs covering more defaults.
A credit score of at least 580 is required to qualify for an FHA mortgage, but many lenders require higher qualifying FICO scores. Higher required FICO scores make borrowers a better risk and therefore, less likely to default.
Lower FICO scores and higher debt to credit ratios require a larger down payment. A larger down payment reduces the size of the loan resulting in a more manageable monthly payment.
Sellers could formerly fund up to 6% of the closing costs, but in 2010, sellers will only be able to contribute a maximum of 3%.
FHA Mortgage Rates versus Conventional Mortgage Rates
Currently, many FHA mortgage rates are lower than conventional mortgage rates thus there may be a long-term savings to obtaining a FHA mortgage. However, it is important to comparison shop because some lenders may impose fees that may make some conventional loans more competitive. Additionally, the financial background and credit score of the borrower will influence the rate he can obtain. If points and mortgage rates are the same, a conventional rate may often have a more competitive interest rate because the borrower will not be required to pay for mortgage insurance. FHA mortgages can be fixed or adjustable.
Types of Fees Associated with FHA Mortgages
Interest Rate - The interest rate is set by a private lender. Factors that contribute to the interest rate are the length of the loan, employment history, the credit rating of the borrower, employment and assets of the borrower, as well as the amount of debt to income ratio of the borrower.
Annual Mortgage Insurance Premium – This is the rate that the borrower is charged for the federal government to provide insurance in the event of default. This amount is set by the Federal Insurance Agency and is currently .5% and is calculated into the monthly payment.
Upfront Mortgage Insurance Fee – This rate is set by the FHA and is paid when the borrower receives the loan. This rate is expected to increase from 1.75% to 2.25% in 2010.
Potential Applicants of FHA Mortgages
FHA Mortgages can be particularly appealing to certain types of borrower.
First-time homeowners – Under the Obama regime, first time homeowners receive a tax credit of up to 10% of the home purchase price up to a maximum of $8,000. Home owners financing with an FHA loan can use their tax credit towards the purchase price of their home even if they have not received it. In essence, the lender furnishes home owners with a bridge loan so they do not have to front the additional funds before receiving their credit, but the bridge loan must be repaid upon receipt of the tax credit.
Minority homeowners – Minorities often have lower incomes so the small down payments and lower income are more attractive to them.
Homeowners who have limited resources for down payments or have had past credit problems that have been resolved for several years.
Older homeowners who need a reverse mortgage - As time progresses, medical technology advances and the life expectancy of people increases. However, costs of living are expensive and as people age their ability to work diminishes and their health costs increase. Many home owners have built up equity in their homes that can help them maintain their lifestyles. Reverse mortgages allow borrowers over 62 to use equity from their homes to help supplement their living.
Types of FHA Mortgages
Fixed Interest Rate Mortgages - The 203 (b) program allows borrowers to finance about 97% of their home loan. Additionally, closing costs can be financed or can be a gift. More recently, due to the increasing default rate, the program has been changed to require down payments of 3.5% as opposed to 3%.
Adjustable rate FHA mortgages are adjusted based on the one year Treasury Bill index rate and may rise no higher than 5% of the initial interest rate. Before obtaining an adjustable rate, have the lender explain the index and research how rates were affected in past years. Adjustable rate mortgages may appeal to homeowners who intend to keep their homes for only a few years.
Insured Rehabilitation Mortgage - This program, under 203 (k), finances the home purchase and needed repairs that are approved. The borrower is required to submit detailed information about the nature of the work and cost estimates. This loan is attractive for home owners purchasing an older home or home in disrepair. Financing for repairs makes it easier for home owners to improve their purchases, which ultimately enhance the community as well.
Reverse Mortgages - Lenders who are at least sixty-two years old can seek an FHA insured reverse mortgage which will allow them to receive a monthly stream of income from their equity. Qualifying applicants do not need to repay the loan until they sell their home or pass away.

Factors Considered when Determining the Amount of Money Available under a Reverse Mortgage:

Home Equity - There must be sufficient equity in the home to make a reverse mortgage viable.
Age of Homeowner - The monthly income available from a reverse mortgage will be influenced by the length of time the homeowner is expected to live. Therefore, younger applicants are likely to receive smaller monthly payments than older applicants who are likely to die sooner.
Rates - The higher the interest rate, the lower the monthly stream of income from a reverse mortgage. Even though the home owner may be using the money to live, in theory higher interest rates give the home owner the ability to invest the money and receive a higher rate of return on it.

FHA insured energy efficient mortgages (EEM) allow qualified lenders to finance energy efficient improvements. The borrower must qualify for a FHA loan equivalent to the purchase price. Energy efficient improvements can help reduce costs to the upkeep of your home over time by reducing fuel electrical and water bills. There may also be tax benefits for certain energy efficient improvements.
FHA mortgages also offer, under Section 245, insured graduated payments mortgage (GPM) which provide lower payments that gradually increase over the life of the loan at various yearly increments. These mortgages can be beneficial to borrowers who expect salary increases, inheritances, or other increased sources of income down the road.
What Should I Do Before Trying to Qualify for a FHA Loan?
Research the various loans and decide which program would be most beneficial for your circumstances. Remember to shop around and get quotes from different lenders. All FHA mortgages do not have the same rates since individual lenders have discretion to incorporate their own fees. Although origination fees were once capped at 1%, lenders now have the discretion to set their own origination fees as long as they are reasonable.
Check your credit history and make sure that it is accurate.
If there are any mistakes in your credit history, take the appropriate action to correct them.
Minimize or eliminate your debt.
Familiarize yourself with FHA loan requirements which include:

The borrower must furnish proof of employment and wages. If self-employed, earnings must be shown for two years.
The borrower must show other sources of income, including alimony, investments, and other revenue with appropriate documentation.
The current mortgage cannot be in arrears.

Other factors considered are:

Late payments, especially tendered within the last twelve months
Bankruptcies must have been discharged in excess of two years
Federal debt must be up-to-date
All judgments must be satisfied
Foreclosures must have occurred in excess of three years ago
Child support cannot be in arrears
What Should I do when Applying for a FHA Loan?
Organize all your documents. Your will need to provide all your past addresses, your current and past employers' names and locations, W-2 forms, and tax returns for the past two years. If you are a veteran, you will need to provide documentation pertaining to your discharge or DD Form 214. Your lender will be able to provide you with the appropriate application form. You will also need to provide detailed financial information including bank statements, pay stubs, retirement benefits, and other information as needed.
Refinancing with a FHA Mortgage
Refinancing can give you an opportunity to lower your monthly payments, reduce the length of your loan, obtain a lower interest rate, or obtain a cash out so that you can use some of your equity. There are several types of refinancing:
Cash Out Refinancing – This involves paying off the original loan and refinancing your mortgage for a larger amount. A cash out refinancing mortgage requires the homeowner to have some equity in their home either because the homeowner has paid down his mortgage or because the value of the home has increased. FHA mortgage permit cash out refinancing if the house was purchased a minimum of one year prior and borrowers can refinance up to 85% of the home's appraised value. Closing costs can also be rolled into the refinanced mortgage. Borrowers do not need an existing FHA Mortgage to qualify for cash out refinancing. Borrowers considering a cash out refinance on their FHA loan should know HUD announced a new lower loan-to-value limit from 85% to 80% on cash out refinances on August 1, 2019.
Streamlined Refinancing – FHA streamlined refinancing requires the original loan to be an FHA mortgage. In the past, streamlined refinancing did not require appraisals or income verification. More recently, in 2009, guidelines for streamlined mortgages have been modified.

Requirements for Streamlined Mortgages

Original loan must be an FHA loan
Home owner cannot receive additional cash out
Six or more mortgage payments must have been tendered by the homeowner
Verification of employment and income needed
Verification that the borrower can afford closing costs is necessary
Updated appraisal is needed if closing costs are financed, but if they are not then an appraisal is not required,
Borrower may not have more than one late payment exceeding 30 days on the original loan within the past year
All payments tendered within the last three months must be timely

Rate and Term Mortgage Refinancing – The structure of this refinancing program lets the borrower combine first and second mortgages into one loan. Closing costs are regulated and refinancing is available for 96.5% of the homes appraised value.
Additional requirements to refinance are:

The borrower must be refinancing a property that is his primary residence.
Home purchasers may only have one FHA mortgage at a time.
Although FHA mortgage loans are often competitive, if you are a first-time homeowner or planning to replace your existing home, now may be the time to act. The attractive $8,000.00 tax credit for new home owners and the $6.500.00 tax credit for purchasing a replacement home are only offered for homes purchased by April 1, 2010. Furthermore, interest rates are low, but are expected to rise making this an optimal time to lock into a rate. If you are purchasing a home that you expect to turnover in a few years, an FHA assumable mortgage will be particularly attractive and make your home easier to sell. Remember to shop carefully since the lender sets the rates. Since FHA loans are funded by borrower paid insurance premiums, when defaults increase, underwriting requirements are likely to become more stringent and borrowers will be required to shoulder additional insurance costs. The broad selection of FHA loan programs makes it possible for someone who needs a little extra assistance in buying a home to achieve their dream of ownership.
Ashburn Homebuyers May Qualify for a Low-rate FHA Home Loan
Visit FHALoans.com today to prequalify.