Calculate Your Potential Income Tax Savings Available Through Home Ownership
Mortgage Tax Benefits Calculator
One of the advantages of real estate investment is that some homeowners may qualify to deduct mortgage interest payments from their income when filing their taxes. This calculator estimates your tax savings after a house purchase. Financial analysis is provided for an initial period selected by the user & subsequent years throughout the duration of the loan term.
Our homeownership tax benefits guide includes a more detailed calculator which enables users to input more data to get a more precise calculation & has been updated to include 2020 standard decutions and the new real estate tax treatments after the passage of the 2017 Tax Cuts and Jobs Act.
Current San Diego mortgage rates are displayed below. Given the current low-rate environment, you may be able to save thousands by locking in today's low rates.
Money Saving Tip: Lock-in San Diego's Low 30-Year Mortgage Rates Today
How much money could you save? Compare lenders serving San Diego to find the best loan to fit your needs & lock in low rates today!
By default 30-yr fixed-rate refinance loans are displayed in the table below. Filters enable you to change the loan amount, duration, or loan type.
2021 Filing Status and Federal Income Tax Rates
| Tax Rate | Married Filing Jointly or Qualified Widow(er) | Single | Head of Household | Married Filing Separately |
| --- | --- | --- | --- | --- |
| 10% | $0 – $19,900 | $0 – $9,950 | $0 – $14,200 | $0 - $9,950 |
| 12% | $19,901 – $81,050 | $9,951 – $40,525 | $14,201 – $54,200 | $9,951 – $40,525 |
| 22% | $81,051 – $172,750 | $40,526 – $86,375 | $54,201 – $86,350 | $40,526 – $86,375 |
| 24% | $172,751 – $329,850 | $86,376 – $164,925 | $86,351 – $164,900 | $86,376 – $164,925 |
| 32% | $329,851 – $418,850 | $164,926 – $209,425 | $164,901 – $209,400 | $164,926 – $209,425 |
| 35% | $418,851 – $628,300 | $209,426 – $523,600 | $209,401 – $523,600 | $209,426 – $314,150 |
| 37% | Over $628,300 | Over $523,600 | Over $523,600 | Over $314,150 |
Income Taxes vs Payroll Taxes
The above rates are separate from Federal Insurance Contributions Act (FICA) taxes which fund Social Security and Medicare. Employees and employers typically pay half of the 12.4% Social Security & 1.45% Medicare benefit each, for a total of 15.3%.
Self-employed people pay self-employment taxes, which had them paying both halves of the tax.
For 2020 the FICA limit is on the first $137,700 of income. On his Presidential campaign, Senator Joe Biden proposed also imposing the payroll tax on every dollar of income above $400,000.
On August 28, the IRS issued Notice 2020-65 which allowed employers to suspect witholding and paying Social Security payroll taxes for salaried employees earning under $104,000 per year through the remainder of 2020. As originally proposed these are not forgiven payments but rather deferred payments which need to be paid in half by the end of 2021 and in whole by the end of 2022.
2021 Longterm Capital Gains Rates
Gains on asset sales from assets which are held for at least a year are taxed at lower rates than ordinary income.
| Tax Rate | Married Filing Jointly or Qualified Widow(er) | Single | Head of Household | Married Filing Separately |
| --- | --- | --- | --- | --- |
| 0% | $0 – $80,800 | $0 – $40,400 | $0 – $54,100 | $0 – $40,400 |
| 15% | $80,801 – $501,600 | $40,401 – $445,850 | $54,101 – $473,750 | $40,401 – $250,800 |
| 20% | $501,601 or more | Over $445,850 | Over $473,750 | Over $250,800 |
What Information Is Required For Filing?
A new year has rolled around and you are finally ready to sit down and take a look at those tax forms. If it is near the end of January or the beginning of February, you might have already received a W-2 form in the mail from your employer. This is a form that lists all of the wages you earned and taxes taken out of those wages throughout the year. HOLD ON TO THIS FORM!! It will become necessary to file your taxes going forward.
The W-2 form has all of the information you will need to plug in when you file your 1040 or 1040EZ with the government. It is all neatly printed out in organized boxes so that you can follow instructions on the other forms as you fill it out. Remember, it is up to you as a taxpayer to file your taxes on time. This applies even if you are not expecting to receive a refund. You have until April 15th each year to file.
If you are paid as a contractor you may receive compensation on a 1099-MISC form. Interest payments from banks are recorded on 1099-INT forms.
Common Tax Deductions
Tax deductions are a beautiful thing. You can deduct money from the amount you owe (or the amount you should have paid in) by claiming certain recognized deductions from your bill. It is not something that is kept a secret even. In fact, the IRS itself features some of the deductions that you can take right on its own website.
There are some deductions which are more common than others. The truth is that the tax code is written in such a way that some deductions just apply to more individuals. Some that you should be on the lookout for are:
Home Mortgage Interest on up to $750,000 of mortgage debt
Student Loan Interest Paid
Charitable Donations
Earned Income Tax Credit
Medical Or Dental Expenses
up to $10,000 in state and local taxes (SALT)
If any of these situations apply, it is easy to take some deductions from the taxes that you have to pay. Given this, you will want to make sure that you are gaining the maximum amount of value that you can out of these cuts to your tax bill.
Standard Deductions
The following table lists the 2021 Federal income tax standard deductions. Itemizing deductions generally only makes sense if your total deductions exceed these thresholds.
| Filing Status | Standard Deduction |
| --- | --- |
| Married Filing Joint | $25,100 |
| Qualified Widow(er) | $25,100 |
| Single | $12,550 |
| Heads of Household | $18,800 |
| Married Filing Separately | $12,550 |
Save Each Year After Filing Taxes
Owning a home can be expensive. In addition to paying down your principle, you have to pay thousands in dollars in loan interest every year and thousands in property taxes, homeowner's insurance, private mortgage insurance and perhaps homeowner's association fees. That's not even taking into account any repairs or improvements you might need to make from year to year, such as putting on a new roof or buying a new air conditioner.
One of the financial benefits of home ownership is that you can deduct the interest you pay on your loan up to a total of $750,000 of mortgage debt, which can provide some financial relief when it seems like your home is only costing you money.
What Can You Deduct?
What you can deduct depends on your particular financial circumstances. However, in general, you can deduct any mortgage interest that you pay (on up to $750,000 of debt), any points you had to pay to get your mortgage or to pre-pay interest, and any property taxes you pay. In the past homeowners were able to deduct interest paid on up to $100,000 of home equity loan debt for any reason, but the 2018 tax law no longer allows the deduction of interest paid on HELOCs and home equity debt unless it is obtained to build or substantially improve the homeowner's dwelling.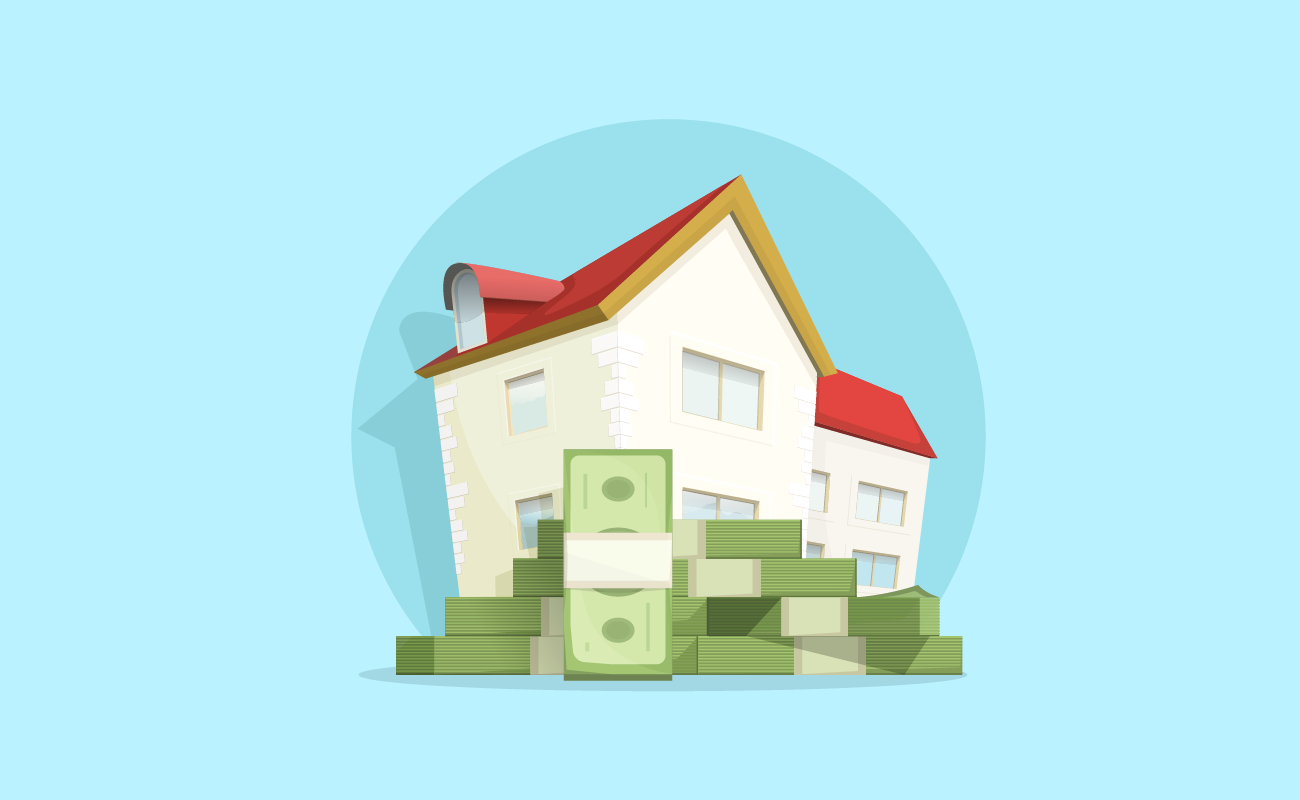 Tax deductions are not the same as credits. At the end of the year, you deduct the interest from your taxable income, reducing your overall tax burden. Therefore, if your taxable income is $50,000 and you paid $5,000 in mortgage interest, your taxable income would be reduced to $45,000. Your taxes will then be calculated based on the appropriate percentage of your income for your tax bracket.
In contrast, a tax credit would deduct $5,000 from the amount of taxes you owe or would give you $5,000 if you owed no taxes.
Other Potential Deductions
If you work from home for any part of the time, you can also deduct your mortgage expenses from your taxes. The deduction has complicated rules, but essentially, you must deduct the proportion of your mortgage that is equal to the proportion of the space you use for your work. Therefore, if 1/5 of your home is dedicated to an office space, you can deduct 1/5 the cost of your mortgage from your taxes.
You can also deduct other expenses in the same proportion, including your utility charges, such as your electricity, water and Internet.
Because this deduction has many complex rules, it is important that you work with a certified tax professional to determine exactly what it is permissible for you to claim. Working with a tax professional is also advisable when you are making other mortgage deductions, such as your interest or property taxes. An accountant can help you ensure that you are taking the full deduction for which you qualify so that you can maximize your tax benefits.
Untaxed Capital Gains
If your house appreciates throughout the duration of ownership you are allowed to obtain some capital gains tax-free. Individual homeowners have a cap of $250,000 while married couples have a cap of $500,000. Requirements include not having used this provision in the last 2 years and the house serving as your primary residence for at least 2 of the past 5 years.
Calculating Benefits
Though a tax professional can give you a precise picture of what you can expect to save with your mortgage deductions, you can also use the mortgage tax benefit calculator provided here to learn what benefits you may expect to receive at the end of the year. The calculator can give you an idea of your expected tax savings for each individual year and for the total time you plan to stay in your home. Just plug in the amount of the loan, your current home value, the interest rate, the length of the loan, any points or closing costs, and your annual taxes, insurance and PMI. Then plug in your state and federal tax rate and your standard deductions. We'll e-mail you a complete financial analysis of what you can save in the coming years based on the interest you pay.