Money Saving Tip: Lock-in 's Low 30-Year Mortgage Rates Today
How much money could you save? Compare lenders serving to find the best loan to fit your needs & lock in low rates today!
By default 30-yr fixed-rate loans are displayed in the table below, using a 20% down payment. Filters enable you to change the loan amount, down payment, loan duration, or type of loan.
Homebuyers: Explore Second Mortgage Rates Today
Here is a table listing current home equity offers for homeowners in , which you can use to compare against other loan options.
Down Payments & Property Mortgage Insurance
When you buy a home, it is traditional to put down a 20 percent down payment on the first mortgage. However, few of us have that much cash on hand for just the down payment — which has to be paid on top of closing costs, moving costs and other expenses associated with moving into a new home, such as making renovations. U.S. Census Bureau data shows that the average cost of a home in the United States in 2010, the last year for which the data was compiled, was $272,900. A 20 percent down payment for a house that price would be $54,540.
The benefit of coming up with the hefty 20 percent down payment is that you can qualify for lower interest rates and can get out of having to pay private mortgage insurance, or PMI. When you make a down payment of less than 20 percent, you have to pay PMI to protect the lender in case you default on your mortgage. PMI can cost hundreds of dollars each month, depending on how much your home cost. Typically, when you pay down the mortgage enough to build up 20 percent equity in your home, your PMI is automatically canceled.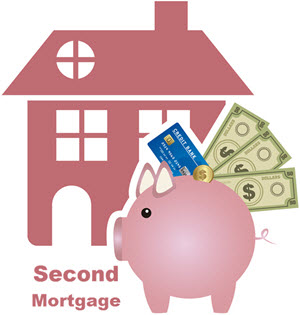 Another way to get out of paying private mortgage insurance is to take out a second mortgage loan, also known as a piggy back loan. In this scenario, you take out a primary mortgage for 80 percent of the selling price, then take out a second mortgage loan for 20 percent of the selling price. Some second mortgage loans are only 10 percent of the selling price, requiring you to come up with the other 10 percent as a down payment. Sometimes, these loans are called 80-10-10 loans. With a second mortgage loan, you get to finance the home 100 percent, but neither lender is financing more than 80 percent, cutting out the need for private mortgage insurance.
Making the Choice
There are many advantages to choosing a second mortgage loan rather than paying PMI, but the ultimate choice depends on your personal financial circumstances, including your credit score and the value of the home.
Starting in 2018 the IRS will not allow homeowners to deduct interest paid on home equity loans from their income taxes unless the debt (up to a limit of $100,000) is obtained to build or substantially improve the homeowner's dwelling. Be sure to check with your accountant to see if the second mortgage is deductible as many second mortgage loans are issued as home equity loans or home equity lines of credit. With credit lines, once you pay off the loan, you still have a line of credit that you can draw from whenever you need to make updates to the house or wish to consolidate your other debts. Dual purpose loans may be partially deductible for the portion of the loan which was used to build or improve the home, though it is important to keep receipts for work done.
The drawback of a second mortgage loan is that it may be more difficult to qualify for the loan and the interest rate may be higher than your primary mortgage. Most lenders require applicants to have a FICO score of at least 680 to qualify for a second mortgage, compared to 620 for a primary mortgage. Though the second mortgage may have a slightly higher interest rate, you may be able to qualify for a lower rate on the primary mortgage by coming up with the "down payment" and eliminating the PMI.
Ultimately, cold, hard figures will best help you make the decision. Our calculator can help you crunch the numbers to determine the right choice for you. We compare your annual PMI costs to the costs you would pay for an 80 percent loan and a second loan, based on how much you make for a down payment, the interest rates for each loan, the length of each loan, the loan points and the closing costs. You get a side-by-side comparison showing you what you can save each month and what you can save in the long run.
Additional Second Mortgage Uses
In addition to getting around PMI payments, some other common reasons people get a second mortgage include:
consolidate other higher interest debts into a single lower interest payments
creating a home equity line of credit (HELOC)
home repairs & improvements
Homeowners May Want to Refinance While Rates Are Low
US 10-year Treasury rates have recently fallen to all-time record lows due to the spread of coronavirus driving a risk off sentiment, with other financial rates falling in tandem. Homeowners who buy or refinance at today's low rates may benefit from recent rate volatility.
Are you paying too much for your mortgage?
Find Out What You Qualify For
Check your refinance options with a trusted lender.
Answer a few questions below and connect with a lender who can help you refinance and save today!