Money Saving Tip: Lock-in Ashburn's Low 30-Year Mortgage Rates Today
How much money could you save? Compare lenders serving Ashburn to find the best loan to fit your needs & lock in low rates today!
By default 30-yr fixed-rate refinance loans are displayed in the table below. Filters enable you to change the loan amount, duration, or loan type.
Comparing the 15-Year Loan and the 30-Year Loan
Fixed-rate loans provide a stable monthly mortgage payment so you can create a steady budget. Unlike adjustable-rate mortgages, there are no surprises with fixed-rate loans, and you don't have to worry about your rate re-setting or your payment increasing.
When deciding on the type of fixed-rate loan that would be best for you, it's important to consider the advantages and disadvantages of each.
15-Year Fixed-Rate Loans
With a 15-year fixed-rate loan, you are likely to have to pay a higher monthly mortgage payment, but you will pay far less interest over the life of the loan.
For example, if you have a 30-year fixed-loan for a $272,000 home with a 4.5 percent interest rate, you will pay $224.146.26 in interest alone over the life of the loan. However, if you have a 15-year fixed-rate loan with the same terms, you will only pay $102,540.71 in interest over the of the loan.
Of course, you will pay a bit more on your monthly mortgage payment. For the 15-year loan, your monthly mortgage payment would be $2,080.78 (not factoring in other variables like property taxes and insurance), and your monthly mortgage payment on the 30-year loan would be $1,378.18. Though you will be paying more each month, you will be paying much less over the life of the loan, and you will be building equity in your home faster.
30-Year Fixed-Rate Loans
The primary advantage of a 30-year fixed-rate loan is that you can lower your payments to a more manageable level without having to take on a risky loan such as an adjustable-rate mortgage. The drawback is that it takes you much longer to pay back the loan, which can put you in a bind if you want to move or sell your home. If you haven't been in your home long enough, you may not have enough equity to sell when you're ready to leave. If you want to retire early, you may not be able to because you're still paying off a mortgage.
The 30-year loan is "slow and steady" for lower risk, but you may need a loan that allows you to meet your financial goals more quickly.
Making the Choice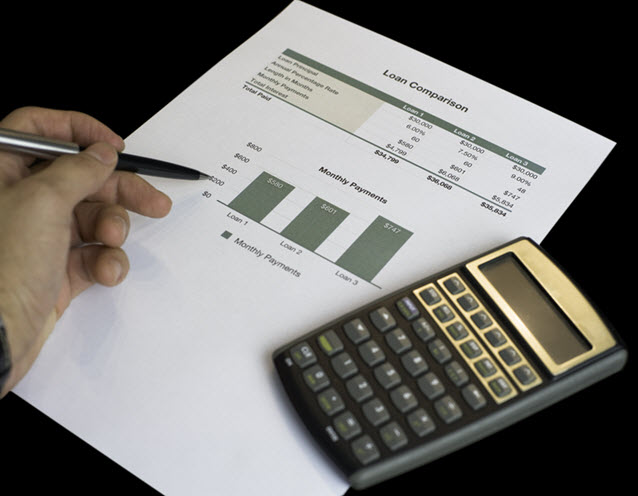 Not all fixed-rate loans are created equal. Variables such as interest rate and fees attached to each loan can make an apples-to-apples comparison difficult. However, you can use the above calculator to compare the terms on each to find out which would be the better choice to meet your financial goals. The calculator takes into account the interest rate for each, points on the loan, origination fees and closing costs to give you a comparison of anticipated monthly costs.
Even with the variation in terms, you can get a clear picture of what you would expect to pay each month and how much interest you would expect to pay over the life of the loan. Then you can decide if you would rather pay off the loan sooner or to keep your payments as low as possible, and which choice best meets your short- and long-term financial goals.
Other Options
The 30-year fixed rate loan is the most popular choice among American home buyers. The 15-year fixed rate loan is a common choice among people refinancing their home. Some buyers with relatively high incomes may also choose other durations for their initial home purchase like a 20-year or a 10-year term. We offer a number of calculators that makes it easy to compare 2 terms side-by-side for all the common fixed-rate terms: 10 or 15, 10 or 20, 10 or 30, 15 or 20, 15 or 30 & 20 or 30. At the bottom of each calculator is a button to create printable amortization schedules, which enable you to see month-by-month information for each loan throughout the duration of the term. On each of these calculators the cost of points & loan origination are included in the "closing cost" field (rather than being separate as in the above calculator).
If you would also like to explore adjustable-rate options, you can use this calculator to compare fixed-rate loans against ARMs and interest-only loans.