VA Home Loan Calculator
Estimate Your Payments on VA Home Loans & Your Total Closing Costs
Use this calculator to help estimate the monthly payments on a VA home loan. Enter your closing date, the sale price, your military status & quickly see the monthly costs of buying a home. Please remember that this is an estimate, the actual fees and expenses may change depending on a variety of factors including the actual closing date, your military status & if you finance your funding fee.
Get Current VA Loan Rates
For your convenience current San Diego VA loan rates are published below. You can use these to estimate your mortgage interest rates and payments.
Below is a summary of the inputs and calculations used to calculate estimated payments and closing costs.
Enter Your Military Status to Get the Most Accurate Results Possible
The fifth section of the calculator [Loan costs] contains multiple important variables for veterans. Namely it lists VA status, loan use & if the funding fee is financed in the loan. By default these are set to active duty/retired military, first time use & funding fee financed.
Military Status
If you are a reservist or a member of the guard, please change this variable to reflect your funding fee.
First or Subsequent Use
If this is an additional use rather than first time use then reset that field to reflect the higher funding fee for subsequent uses.
Roll Funding Fee Into Loan
If you do not want to finance the funding fee, then set the financing option to No.
Injured in Service
If you were 10% or more disabled while in service, your funding fee can be waived. Set "finance the funding fee" to No and deduct that number from your cash due at closing to get your actual closing costs.
Other Options & Print Your Results
You can also edit any of the other variables in the calculator. For sections that are minimized by default, please click on the dropper in the upper right section to expand them. Once you are done with your calculations you can click on the [View Report] button to bring up a detailed report about your loan. Once you are in the active report view you can click the [Print] button to create a printer friendly version of your results.
Current VA Loan Rates Available Locally
Here is a mortgage rate table listing current VA loan rates available in the city of San Diego and around the local area.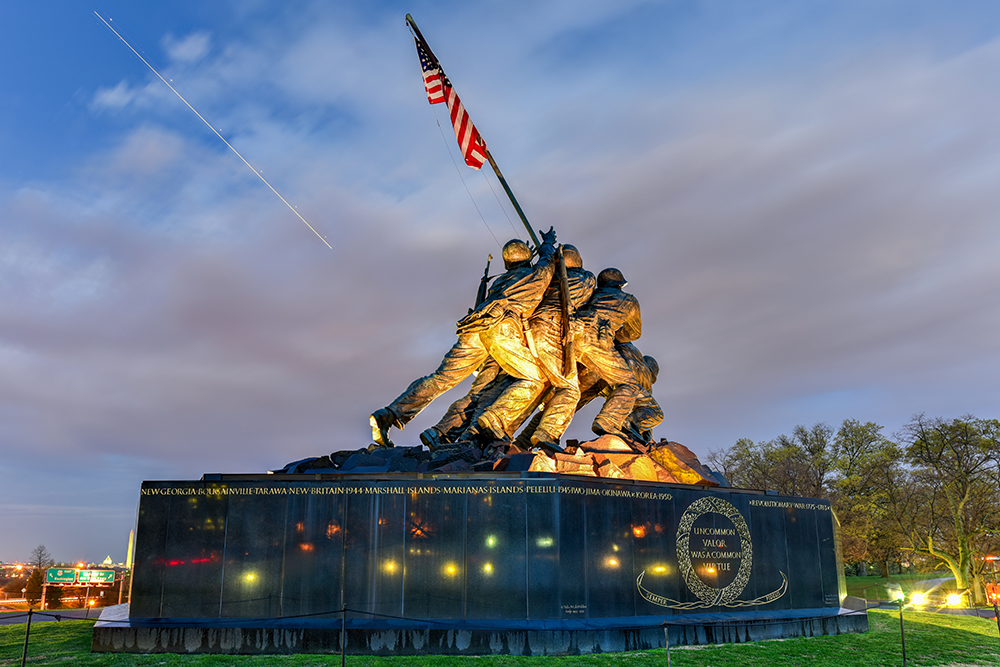 A Brief History Of VA Loans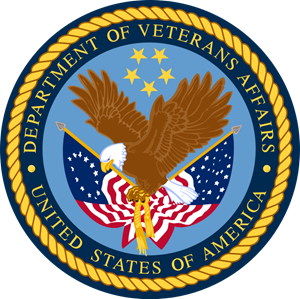 The G.I. Bill of 1944 is where the VA Loan Guaranty Program originated. This sweeping bill made several provisions for returning veterans of World War II. Its ultimate goal was to thank those individuals for their service to their country, and to help them get on with their lives. Considering that their lives were put on hold in many ways due to their military service, the bill was designed to give them a helping hand. The VA Loan Guaranty Program aimed to make housing affordable for returning GIs.
Through the VA Loan Guaranty Program, veterans and active military personnel were able to qualify for home loans through qualified lenders. The U.S. government backed up a certain portion of those loans, guaranteeing them and, essentially, vouching for those who took them out. One of the most important aspects of how the government achieved that was by insuring the property that was being financed on the GIs' behalves. For that reason, there was no need for those who qualified for VA loans to take out private mortgage insurance - a benefit that would add up to significant savings down the line.
VA Home Loans: Top Benefits And Advantages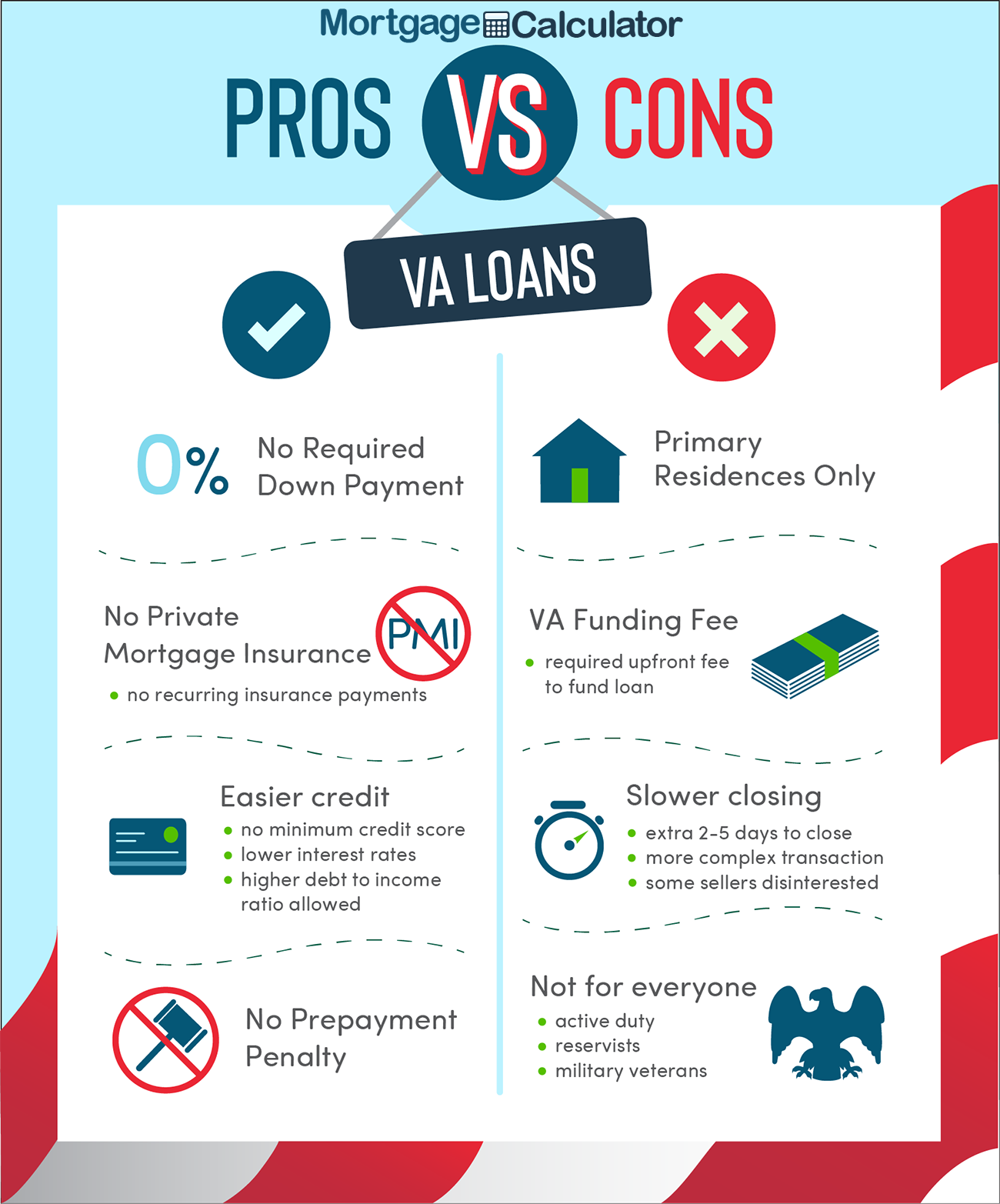 The G.I. Bill was enormously popular and successful; the many perks and benefits that it afforded to United States military personnel and veterans were the impetus for that popularity. Few parts of the bill were met with more enthusiasm than the VA home loan provisions. Since being introduced, VA home loans have been quite popular and have helped thousands upon thousands of military personnel to get into affordable homes. If you are qualified to take out a VA home loan, you should seriously consider doing so; some of the main reasons include:
No Down Payment Needed
One of the most attractive things about securing a VA home loan is that you can finance 100% of the purchase price of a home. In other words, down payments are not required. Therefore, you do not need to have a lot of money saved up for a down payment, and can use any money that you have saved to make whatever purchases you need. Nine out of ten people who secure a VA loan take advantage of this benefit and put no money down when buying a home. Without question, this is a major selling point for many people.
No Private Mortgage Insurance Required
The vast majority of people who take out mortgages have to pay anywhere from $100 to $200 extra per month, on average, in order to pay for mortgage insurance. Mortgage insurance is required for most people who have less than 20% equity in their homes, in order to protect their lenders in the case of default. Since the U.S. government guarantees a portion of every VA loan, private mortgage insurance - or PMI - is not required. This shaves a significant amount of money from the average monthly payment of those who participate in the VA home loan program.
Relaxed Qualification Standards
Incredibly, the United States government does not have a minimum income requirement for people to qualify for VA loans. In addition, there is no minimum credit score required either. Debt-to-income ratio limits are also very relaxed for VA home loans when compared with most tradition mortgages, which imposes a 36% limit. VA home loans impose a 41% debt-to-income ratio limit. If your credit is quite poor - even if you've recently had a bankruptcy - you can still qualify for a VA mortgage. These relaxed standards have helped thousands of people get into homes
Low Interest Rates
Since your credit score isn't taken into consideration when you apply for a VA loan, you are always going to pay a lower interest rate. For traditional mortgages, a person's credit score can have a dramatic - and very negative - impact on the rate that they end up paying. For every 20 points that their credit score dips below 720, traditional borrowers pay a higher rate. Regardless of what your credit score may be, you'll enjoy the same interest rates that someone with impeccable credit would enjoy when you qualify for a VA home loan.
No Prepayment Penalties
Many times, lenders who pay off traditional mortgages ahead of schedule are subject to a fee. These kinds of mortgages are known as prepayment penalty mortgages, or PPMs. A great advantage of a VA home loan is that there is no penalties or fees for paying off the loan ahead of time. For this reason, you can easily pay a bit extra toward the principal of your VA loan each month without the threat of incurring a huge penalty when you do pay it all off. It's just one more way that VA loans save you money.
San Diego Active Duty Military Members & Veterans May Qualify for a $0 down VA Loan
Take advantage of your military benefits today with a $0-down VA loan from Veterans United. Veterans United is the nation's #1 VA home purchase lender & has originated over $10.2 billion in home loans since 2017.
Veterans & Military: Check Your Eligibility for 0% Down Today!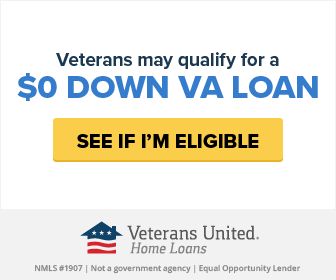 How Do The Interest Rates For VA Home Loans Compare With Those For Other Mortgage Products?
As noted previously, the interest rates for VA home loans are generally quite a bit lower than for traditional mortgage products. In fact, this is one of their major selling points and is the main reason why so many people are sold on them. For people with poor credit, especially, the low interest rates offered through the VA home loan program are very enticing. After all, those with low credit scores generally enjoy the same competitive interest rates that people with topnotch credit scores enjoy. Whether your credit score is 750 or 600, you're going to pay a lot less interest with a VA loan.
Basically, if you want to get a feel for how much a VA home loan will cost in terms of interest, you should just look at what standard, fixed-rate, 30 year mortgages are going for in terms of interest and shave a little bit off of the total. Since rates fluctuate, there is no point in documenting how much you are going to pay in interest for a VA home loan. Suffice it to say that it is generally a great deal less than you would pay for many other popular mortgage products.
The reason VA loans are able to charge a lower rate than other mortgages is the Veteran's Administration guarantees to pay the lender up to 25% of the value of the home. This means if a buyer bought a house for $500,000 & was foreclosed on the VA would cover the lender for any loses up to $125,000.
Can You Obtain VA Loans Above Conforming Loan Limits?
New Law Starting January 2020
Military veterans and activy duty military members can now obtain VA loans with no money down for homes exceeding the conforming loan limit:
In January, Mr. Colletti and his wife, Rachel Ewing Colletti, closed with no money down on a $965,000 house.

The new rules also affect refinances. Evan Banning, president of California Housing and Lending, a real-estate brokerage and mortgage firm in San Diego, said he refinanced a loan for a vet and active reservist in mid-January. The client had purchased a house for $1.7 million a few years earlier with 10% down, but didn't use a VA loan. Under the prior VA rules, refinancing would have required his client to boost his home equity. Instead, Mr. Banning provided a refinance of $1.62 million with no additional money down. He lowered the rate from 4.125% to 3.25%, he said.
Law Before 2020
Before the new law came into being, if you purchase a home valued above the local conforming mortgage limit then you will need to cover the downpayment for the portion of the loan which is above the local limit. For example, if you lived in a county where the maximum conforming loan limit is $636,150 and wanted to buy a house which cost more than this, then you would need to make a down payment of 25% of the amount beyond the limit. If you were to buy a house for $836,150 with a VA loan then you would need to cover 25% of the loan amount above the local limit.
$836,150 - $636,150 = $200,000
$200,000 / 4 = $50,000
When Is The Best Time To Get A VA Home Loan?
When shopping around for a mortgage, many people wonder if there is a "good time" to apply. For some mortgage products, there is no doubt that key market conditions affect how much they're going to pay. However, there is no tried and true advice for when you should - or shouldn't - apply for a VA home loan. The things that affect the interest rates that are attached to the typical VA home loan are so varied and complex that there is no hard and fast rule to refer to.
If you are considering a VA home loan, contact a number of qualified lenders and ask them what the current rate is. Try to get a feel for whether rates have recently crept up or gone down, and act accordingly. Either way, you're going to be paying a lot less than those who don't qualify for VA loans are going to. Also, without the worry of private mortgage insurance and without having to make a down payment, you're going to be ahead of the game financially anyway. In fact, the relaxed conditions for VA home loans makes any time a good time to get one. The VA loan benefit is flexible and widely used across the country. Here are usage stats for fiscal year 2018.
| Loan Type | Loan Volume | Total Financed | Average Loan |
| --- | --- | --- | --- |
| Purchase | 383,115 | $103,387,651,398 | $269,861 |
| IRRRL Streamline Refi | 67,347 | $16,774,568,042 | $249,077 |
| Cash-out Refinance | 160,051 | $41,133,294,330 | $257,001 |
| Total | 610,513 | $161,295,513,770 | $264,197 |
The Disadvantages Of VA Home Loans
You'd be hard pressed to find a whole lot of drawbacks to a VA home loan. Assuming you qualify - i.e., that you are an active member of the United States military, or a veteran - then you will quickly see that the pros of such a loan far outweigh the few cons. Still, in order to make the best and most educated decision possible, you should learn about the drawbacks and disadvantages of VA loans. Knowing exactly what you're getting yourself into is always a good idea. In general, the main drawbacks of a VA loan are:
Loan Limits
Although they vary depending on where you live in the country, there are limits on how large of a VA home loan you can take out. Those who are looking to purchase a very expensive home, for instance, may be discouraged by the loan limits that are imposed by the VA home loan program. If the home that you want to buy exceeds the loan limits set by the VA home loan program, you will have to finance the balance through another mortgage program. This can seriously negate the benefits of using the VA home loan program. Still, the limit in most areas is currently $729,000; for the vast majority of people, that amount is more than enough for what they are looking at.
Hidden Fees
One of the biggest worries that prospective home buyers have is paying hidden fees. When figuring out how much you can afford, you need to make sure that you take every single fee and expense into account. Many mortgage programs and home loan products have hidden fees; on the outset, they aren't very obvious. By the time everything is said and done, though, they can increase a borrower's expenses by a considerable margin.
VA home loans are interesting because they don't include a ton of different hidden fees. Still, there are a few that you need to be aware of in order to get the best idea possible about what you can really afford. These fees include:
Repairs - When applying for a VA home loan, the VA has its own inspection and assessment done on the property that you'd like to purchase. In order to qualify, the property must fit within the specific criteria as outlined by the VA. Although it's not terribly common, occasionally the VA requires repairs and other work to be performed before it will approve a loan. The seller is not allowed to make the repairs; it is solely the responsibility of the buyer. In this way, you could incur some extra expenses when trying to secure a VA home loan. For the most part, such expenses are minimal.
Closing Costs - There are certain fees and expenses that the seller cannot pay when a VA home loan is being used to purchase a house. For instance, courier fees and document recording costs are generally the responsibility of the buyer. Although they aren't usually terribly expensive, they should still be taken into consideration when calculating how much you can afford to spend. Also, miscellaneous VA loan fees are going to be your responsibility, as is the cost of termite inspections - if they are required.
Funding Fees - Down payments are not required for VA home loans. However, if you make a down payment of at least 5% of the purchase price, you can avoid funding fees. Funding fees are required by law for VA home loans. For those who make no down payment whatsoever, the funding fee is going to be around 2.15%. It should be noted, though, that this fee is rolled into the overall loan and isn't due upfront. In certain cases, funding fees may be waived. Veterans who are receiving VA compensation for service-related disabilities, for instance, may not have to pay these fees. However, you should plan on paying them and should include them in your calculations when planning to purchase a home through the VA home loan program.
| Borrower | Down Payment | Funding Fee (1st use) | Subsequent Funding Fee |
| --- | --- | --- | --- |
| Disabiled 10%+ in Service | Any | 0% | 0% |
| Regular Military | None | 2.15% | 3.3% * |
| Regular Military | 5 - 10% | 1.5% | 1.5% |
| Regular Military | 10% &Up | 1.25% | 1.25% |
| Regular Military | Cash Out Refi | 2.15% | 3.3% |
| Reservist & National Guard | None | 2.4% | 3.3% * |
| Reservist & National Guard | 5 - 10% | 1.75% | 1.75% |
| Reservist & National Guard | 10% &Up | 1.5% | 1.5% |
| Reservist & National Guard | Cash Out Refi | 2.4% | 3.3% |
| Regular Military, Reservist & National Guard | IRRRLs | 0.5% | 0.5% |
| Regular Military, Reservist & National Guard | Manufactured Homes | 1.0% | 1.0% |
| Regular Military, Reservist & National Guard | Loan Assumptions | 0.5% | 0.5% |
* The higher subsequent use fee does not apply to these types of loans if the Veteran's only prior use of entitlement was for a manufactured home loan.
Source: Funding Fee Table [PDF] on benefits.va.gov, citing Public Law 112-56, signed November 21, 2011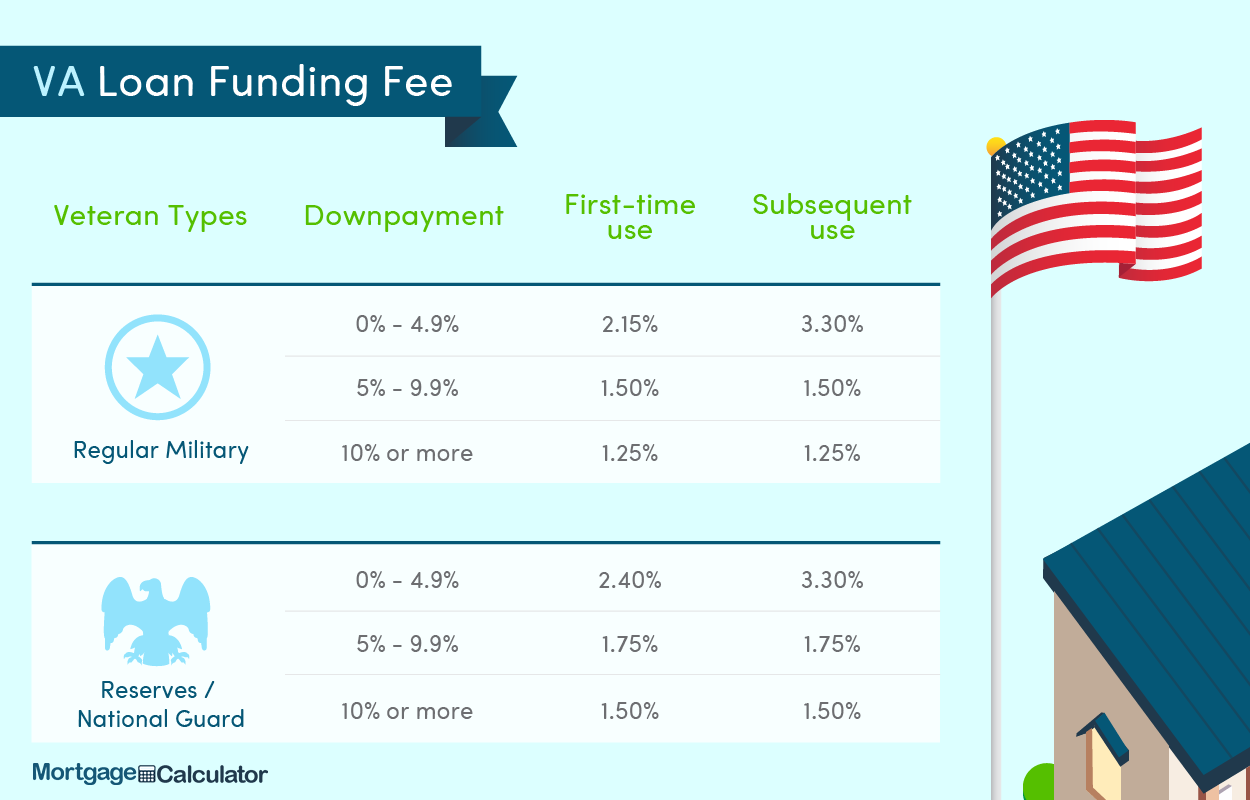 How To Qualify For A VA Home Loan
As the name implies, the VA home loan program is reserved for veterans and active members of the United States military. In order to qualify, then, you or your spouse must have either served at least two years of active duty for the United States military, or must currently be enlisted. The entire scope of the U.S. military is included in the program, which means that members of the U.S. Army, Navy, Marine Corps, Air Force and Coast Guard are all eligible for this program.
There is no way to even be considered for a VA home loan if you haven't actively served in the U.S. military. Even if you have served, if it was for less than two years then you are not going to qualify. During periods of war, active personnel must have served for at least 90 days to qualify. Also, if you are no longer enlisted, your discharge can be for any reason other than dishonorable in order to qualify. As long as all of these criteria are met, you should have no problem securing a VA home loan.
Steps To Acquiring A VA Home Loan
Acquiring a VA home loan involves a relatively straightforward, simple process. Before going ahead with it, though, you should familiarize yourself with what you're going to be expected to do. Below, the basic steps for acquiring a VA home loan are outlined for your convenience. Although everyone's experience is going to vary slightly, you can expect yours to go in roughly the following order:
Qualify - First, you need to make sure that you are actually qualified to receive a VA home loan. Look over the eligibility requirements as outlined in the previous section. If you are still unsure about whether or not you qualify, you should use the Veteran Affairs Eligibility Center to see what they have to say. Covering this base is important if you want to proceed with obtaining a VA home loan.
Apply For A COE - Next, you're going to need to apply for a COE, or Certificate of Eligibility. You will need this certificate when you approach a VA-approved lender for a home loan.
Submit Your Paperwork - To get your COE, you need to submit VA Form 26-1880 - Request For A COE For Home Loan Benefits - along with documentation that proves your military involvement to your local VA Eligibility Center. Although the VA Eligibility Center may be able to confirm your background themselves, it is always best to come prepared with as much documentation as you can get your hands on. Your DD 214 is the key document. If you don't have it you can request a copy of it from Archives.gov. Other required information includes: checking account information, open loan accounts information, W2 and employment information over the past 2 years (or tax returns for self-employed people), your address and your social security number.
Find A Lender - Not all lenders offer VA home loans. You should check around to see what your available options are. Lenders must be approved by the U.S. government, so double check that the one you're interested in working with does participate. Otherwise, you will end up wasting a lot of time.
See If Your Lender Uses The ACE System - The ACE system streamlines the COE application process and allows you to quickly and easily find out whether or not you are qualified for a VA home loan. Check with the lenders that you are looking at to see if any of them offer this service. Please note that the ACE system does not work in every single instance; however, having it as an available option is a great way to shorten the overall process of applying and qualifying for a VA home loan.
Find A Home - With your pre-approval in hand, you can finally go house hunting. Remember that the U.S. government is going to have to inspect the house that you choose and that you may have to pay for any repairs that it finds necessary. Otherwise, you should be a proud homeowner in no time flat!
Obtaining Cash Out While Refinancing a VA Home Loan
On August 1, 2019 Ginnie Mae announced they were lowering the loan-to-value limit on cash out refinancing loans to 90% LTV. Previously the limit was 100%.
San Diego Active Duty Military Members & Veterans May Qualify for a $0 down VA Loan
Take advantage of your military benefits today with a $0-down VA loan from Veterans United. Veterans United is the nation's #1 VA home purchase lender & has originated over $10.2 billion in home loans since 2017.
Veterans & Military: Check Your Eligibility for 0% Down Today!