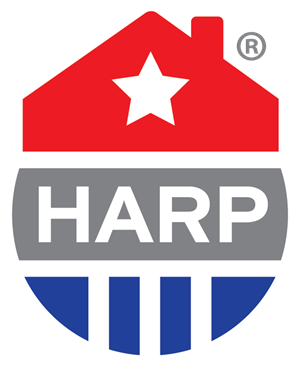 Home Affordable Refinance Program® and HARP® are registered trademarks of the Federal Housing Finance Agency (FHFA). MortgageCalculator.org is not associated with FHFA or any government program. Official information about the Home Affordance Refinance Program (HARP) is located at http://www.HARP.gov.
In 2008 the housing bubble burst, and this caused home prices to go into a free fall. By the time all was said and done, many homeowners found themselves with a house whose mortgage was now higher than the total value of their home. If these homeowners tried to refinance their properties with the new lower interest rates, they found themselves getting turned down. They were turned down because almost all lenders require a loan-to-value ratio on a property to be 80% or lower to qualify for refinancing without adding on private mortgage insurance.
For example, if a house was bought at $160,000 but was now only worth $100,000 after the housing bubble collapse, and the owner currently owes $120,000 on the original mortgage, the loan-to-value ratio is 120%. By adding private mortgage insurance, most homeowners found the value of refinancing null and void.
This is where the Home Affordable Refinancing Act (HARP) comes in. We will go over what this program is, how it works, who is eligible for financing, any changes to the current program, and more. You'll leave with a very good understanding of this program, and you should have a good idea if this is an option you should pursue or not.
People Who Have Used HARP to Refinance
When it was originally debuted, the HARP program didn't do as well as it was projected to do because of the complex set of requirements and guidelines. When the government unveiled HARP 2.0, it became for accessible to a much wider pool of homeowners. To date, over 3.4 million people have been helped by the HARP refinancing program. They were able to apply and be accepted to modify their existing mortgages to something more affordable. This allowed them to keep their homes. As of Q1 2016 3,400,543 homeowners have been helped. The following eligibility map shows over 100,000 still qualify to join the program.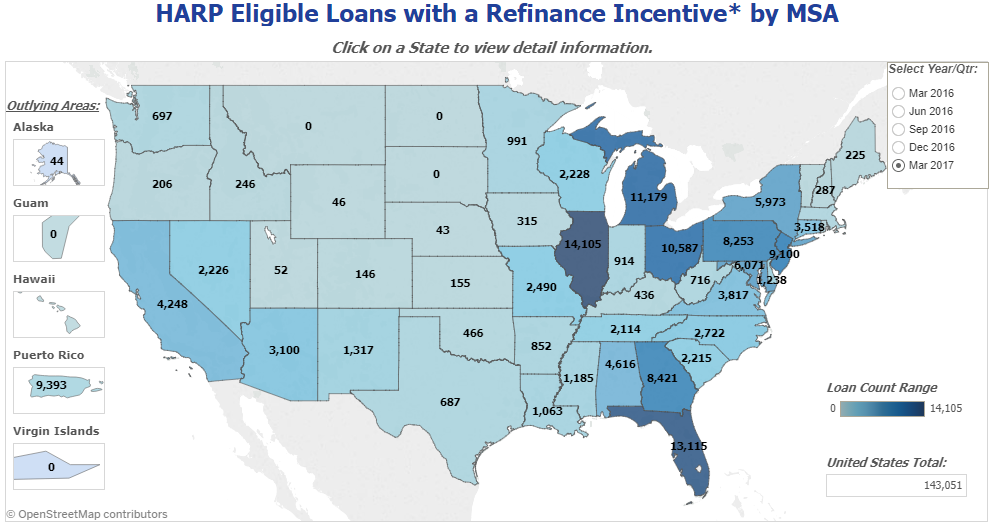 The above map lists as eligible homes which
were financed with conventional loans before 6/1/2009
have an LTV above 80%
no loan delinquencies in past 6 months & no more than 1 in past year
remaining loan balance above $50,000
remaining loan term above 10 years
note rate 150 points (1.5%) above market rates
For your convenience here is a rate table which shows current rates in your area.
How Does HARP Work?
The Federal Housing Finance Agency (FHFA) created this program in March 2009 to help homeowners who were affected by the 2008 housing market collapse. It lets potential borrowers refinance their current home mortgages with minimal or no equity. The homeowners will get a more affordable mortgage rate, and they won't have to add on expensive private mortgage insurance like they would with a traditional mortgage. As long as the borrower is current on their mortgage payments and their loan-to-value ratio is above 80%, they have a good chance of qualifying for this program.
HARP Eligibility Requirements
If you believe you could benefit from the HARP program, you should make sure that you qualify before you begin the application process. this way, you won't waste your time going through the application process only to be denied on eligibility requirements.
Current Loan-to-Value Status
Your mortgage must have a current loan-to-value ratio of over 80%. This means that your home mortgage's current amount is 81% or more of your home's value.
Current Mortgage Status
The first thing you have to look at is your current mortgage and your payment history. To be eligible for the HARP program, you must be current on your mortgage payments. Additionally, you can't have any payments that were over 30 days late in the last six months, and no more than one missed payment in the last 12 months.
Lender
Any home mortgage you want to refinance through HARP must be guaranteed or owned by Frannie Mae or Freddie Mac. If you're not sure which lender has your current mortgage loan, you can check your Freddie Mac or Frannie Mae mortgage status.
Mortgage Type
To be eligible for the HARP program, you can only have a conventional mortgage. Other mortgage options like the USDA, FHA, or VA home loan are not accepted into the HARP refinance program.
One Use
You may only use the HARP program on the same property once. So if you've had to refinance your home through this program before, you won't be able to refinance a second time.
Origination Date
Your mortgage loan must have an origination date on or before May 31, 2009, to meet the requirements for the loan. You can use the tools mentioned above to find your origination date, or you can call 800-7FANNIE or 800-FREDDIE between 8 am and 8 pm eastern time.
Occupancy
The home you want to refinance with the HARP program has a few occupancy regulations you have to follow to be eligible. The home either has to be your primary residence, a single unit second home, or a one to four unit investment property.
People Who Would be a Good Fit for the HARP Program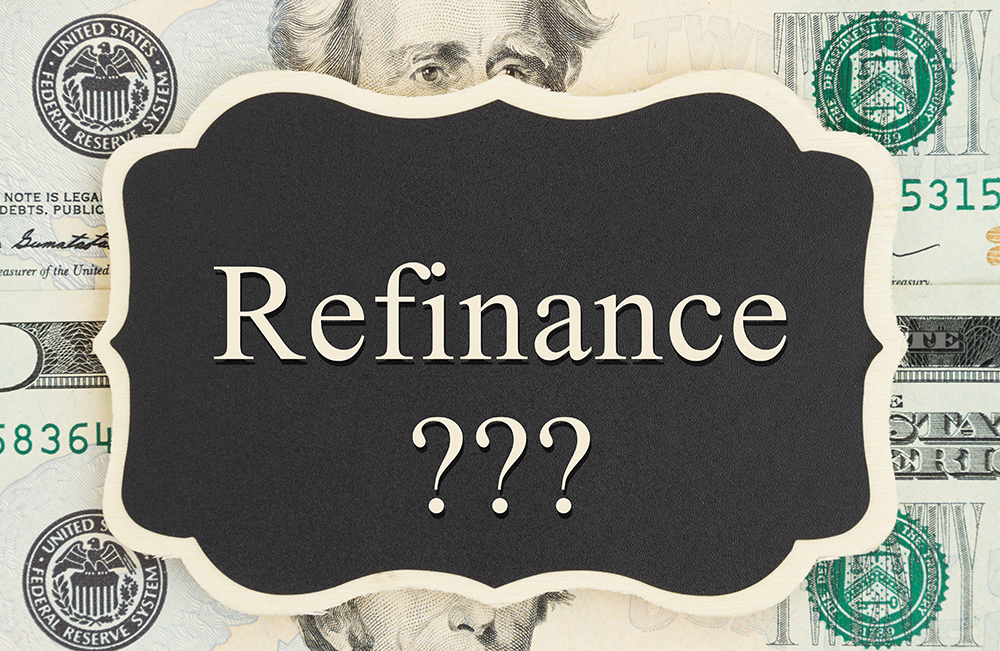 Several factors could make the HARP refinance program a good fit for many individuals. As it was originally designed to help homeowners get lower mortgage rates, this program would be a good fit for anyone who wants to refinance their current mortgages but has been turned down by other lenders.
The loan-to-value ratio is over 80% of the home's worth
The homeowner has been turned down for refinancing by traditional lenders
The homeowner has a credit score of 620 or higher (not a requirement to qualify)
Mortgage payments are current
People Who Would Not be a Good Fit for the HARP Program
On the opposite side, there are several people that the HARP program would not be a good fit for. If you're behind or in default on your mortgage, you won't be qualified for this loan program. A few other examples would be:
The homeowner missed more than one mortgage payment in the last 12 months
They've already refinanced with this program once before
The original mortgage isn't through Freddie Mac or Frannie Mae
The loan-to-value ratio is below the 80% mark
Difference Between the HARP, HAFA, and HAMP Programs
As we've stated above, the HARP loan is for someone who is current on their Frannie Mae or Freddie Mac mortgage with no one very few missed payments. HARP is a total refinance program, which will help to lower interest rates and give a more affordable mortgage payments. The eligibility criteria are listed above.
HAMP Program
The HAMP program was designed to help homeowners who are in danger of defaulting on their current mortgage adjust and modify it without a total refinance. For example, they may be able to extend your loan's repayment term, lower your interest rate, put your payments in forbearance, or switch from an adjustable interest rate to a fixed interest rate. You must meet the following criteria to be considered eligible for this program:
The home must be your primary, personal residence. Any rental or investment properties are not allowed.
Your mortgage must have an origination date on or before January 1, 2009.
You will have to prove financial hardship like a loss of employment, disability, medical expenses, or an increased mortgage.
Your current mortgage for a single-family home must be under $729,750. If you have two to four unit properties, a higher balance will be allowed.
All of your mortgage expenses like insurance, property taxes, principal, interest, and home owner's association payments must be higher than 31% of your pre-tax monthly income.
HAFA Program
The HAFA program is considered a last resort for homeowners who have defaulted on their mortgages are about to be foreclosed on. This program was brought about after thousands of homeowners simply walked away from their properties and didn't qualify for the HARP or HAMP programs. You can make a short sale for less than is due on the property, or you can arrange a deed in lieu of foreclosure. Choose this option, and you transfer the property deed or title to the lender, and they accept this as payment for your mortgage. The eligibility requirements are:
The homeowner has documentation to support a financial hardship claim.
There have been no new home purchases within the last year.
Your first mortgage cost is less than $729,750.
The mortgage's origination date is on or before January 1, 2009.
The borrower has not been convicted of a felony larceny, fraud, forgery, theft, tax evasion, or money laundering related to mortgages or real estate within the last ten years.
The homeowner does not qualify for either the HARP or HAMP programs.
You qualified for the HAMP program but missed two payments in a row.
HARP 2.0
The original HARP program quietly underwent a few key changes to allow more people to be eligible. The re-branded name for the HARP program is HARP 2.0. This program is aimed at homeowners who owe more on their current mortgages than their homes are worth, and they can't get financing anywhere else.
Key Changes From HARP to HARP 2.0
There are key changes between the original HARP program and HARP 2.0. The first change is that the 2.0 program allows homeowners with mortgage insurance to qualify for refinancing. This change allowed more people to be eligible under this program, and more people began to take advantage.
The second key change between the original HARP program and 2.0 is the lender that the refinanced mortgage goes through does not have any responsibility for anything that happened before the refinance. This means if there was any fraud or underwriting associated with the first mortgage loan, the new lender isn't responsible. Finally, borrowers can refinance up to 125% of the loan-to-value ratio.
Harp 2.0 Eligibility
The Harp 2.0 also has eligibility requirements that each home owner must meet before they are accepted into the program. The 2.0 program eligibility requirements are very similar to the original HARP program.
On or before June 1, 2009, your mortgage must be owned by either Frannie Mae or Freddie Mac
Your mortgage must be current with no 30 day or more late payments in the last six months, and only one late payment within the last year
This has to be your first HARP refinancing. If you've refinanced under the original HARP program, you won't be eligible for 2.0.
Loan-to-value ratio must be higher than 80%
The lender may require a credit score of 620 or greater. This varies from lender to lender
HARP Application Process
The HARP application process has four simple steps that any potential homeowners who want to use the program must follow. If you've checked your eligibility and found that you are eligible to use this program, you can proceed to the next steps.
Step 1: Get Your Financial Paperwork in Order
You'll want to have all of your financial paperwork in order before you start the application process. This will reduce any stress or hassles because everything will be in one place. You'll need the following things:
Income details like a bank statement, income tax return, or a pay stub
Mortgage statements, if you have a second mortgage, you'll need this as well
Step 2: Contact Your Lender
The next step is contacting your lender and asking if they're approved to finance HARP loans. If they're not, you can shop around until you find a lender that is approved. You can also contact HARP lender directly for either Freddie Mac or Frannie Mae.
Step 3: Start the Application Process
Once you've found a HARP approved lender, you can start the application process. This can be done in your lender's office or online. It works just like a traditional mortgage application does, and this is where you'll need all of your eligibility and income proof.
Step 4: Get Approval and Close
As soon as you complete the HARP application process, the lender will look over the application. They'll contact you if they need anything further to process the application. This entire process should take around 30 days to complete, and your lender will guide you through this entire process.
HARP Upfront Costs and Closing Dates
Unlike many other mortgages, you shouldn't pay a lot of upfront costs with a HARP refinancing program. The exact amount of the upfront cost varies from lender to lender and your situation. You may also have to pay for an application fee, closing costs, settlement costs and home appraisal.
If you're thinking about refinancing under the HARP program, you're running out of time. On August 17, 2017 the closing date for this refinancing program was extended to December 31, 2018. You don't want to wait until the last minute to begin this process in case you run into problems or delays.
Average Savings with HARP Refinancing
While the exact number of savings people experienced after refinancing their homes varies, we can average them. It is estimated that on average, refinancing your home mortgage with HARP saved roughly $174 a month, and this amounts to $2,088 per year. When you think over 3.4 million people averaging over $2,000 a year in savings, that is a staggering amount.
HARP Approved Lenders
While it is true that many lenders are approved for HARP refinancing, you may have to shop around until you find one that is right for your situation and needs.
Bank Mutual - This lender offers HARP refinancing and they are currently accepting new HARP applicants. You can visit their website or call (800) 261-6888 to start the refinancing process.
Chase Bank - You can get your mortgage refinanced through the HARP program with Chase Bank. You can either visit their website or call (866) 550-5705 to start the application process.
Quicken Loans - This lender also offers HARP refinancing to new and current customers. You can inquire about refinancing your mortgage by visiting their website or calling (800) 971-1622.
Wells Fargo - Wells Fargo is one of the bigger lenders who allow HARP refinancing. You can visit them at their website or you can call (866) 898-1122 to find out more information.
Advantages of the HARP Refinancing Program
Choosing to refinance your home is a big step, and you should really think about the positives and negatives of doing so. The HARP refinancing program does offer many positive points for homeowners looking to refinance.
Advantage 1: Lower Monthly Payments
One of the primary reasons many homeowners want to use HARP to refinance is for the lower monthly payments. Your monthly payment will be determined by your previous payment history and your credit rating. If you have a higher credit score and a good credit history, you can qualify for excellent payment terms and lower amounts.
Advantage 2: Lower Mortgage Terms
Again, this will depend on your credit score and your payment history, but you could qualify for lower terms over the life of your mortgage. You could get free refinancing and lower interest rates when you refinance. This has the potential to save you a great deal of money.
Advantage 3: Extended Payment Dates
If you're a person who has difficulty making their mortgage payment on time each month, or if you have an emergency that comes up and you're having difficulty paying, the HARP program can help. Once you refinance through HARP, your payment due date will be extended, and this can help you make your payments on time.
Advantage 4: Deductions
This mortgage refinancing program will allow you to make several tax deductions over the life of your loan. You'll be allowed to subtract your monthly payments from your taxes, and you'll get discount points you can deduct over the life of your loan.
Disadvantages of the HARP Refinancing Program
You want to make a smart decision when it comes to refinancing your mortgage. For all of its good points, the HARP program does have some downsides. It is important that you look at everything to make sure this program is a good fit for you.
Disadvantage 1: Poor Credit Means Higher Terms
Since this loan refinancing program sets its rates based largely on your credit score and payment history, the lower they are, the higher terms you'll get. This is because the lender is trying to protect themselves and you look like a risk. You may also have a harder time getting the terms you want.
Disadvantage 2: Cash Upfront
Unfortunately, you won't have a very clear idea of how much cash you'll need upfront for this refinancing program. If you have lower credit, you can assume you'll have more upfront costs and fees than someone with good or excellent credit. This can make it harder estimate how much cash you'll need on hand when you close.
Disadvantage 3: Qualification Process
Even if you qualified for your original mortgage, you'd have to re-apply for the HARP program. They have stricter qualification guidelines and eligibility requirements. You may be denied for this program based on your credit, income, and eligibility requirements.
Disadvantage 4: May Not Be Able to Shop for Lenders
You may find yourself restricted to which lenders you can use to refinance your existing mortgage, and you may be required to stay with your original lender. If this happens, you won't get the opportunity to shop around for the best rates you can get.
HARP 3.0? The Expected Alternatives to HARP
Congress has periodically renewed the expiration date of HARP numerous times over the past few years, though at some point it will stop getting renewed. It is expected the HARP program will end in December of 2018. Both Freddie Mac and Fannie Mae intend to offer high loan to value (LTV) refinance programs in January of 2019. Freddie Mac's program will be named Enhanced Relief Refinance. To be eligible for either of these programs a homeowner must obtain a better loan term consisting of one or more of the following:
shifting from adjustable-rates to fixed-rates
shorter loan duration
lower monthly loan payment
lower interest rate
These loans will also have eligibility requirements based on a consistent track record of on-time payments, the note being currently owned by Freddie or Fannie, and a minimum LTV of 97% for Freddie Mac or 95% for Fannie Mae.