Money Saving Tip: Lock-in Ashburn's Low 30-Year Mortgage Rates Today
How much money could you save? Compare lenders serving Ashburn to find the best loan to fit your needs & lock in low rates today!
By default 30-yr fixed-rate home purchase loans are displayed in the table below. Filters enable you to change the loan amount, duration, or loan type.
Straight to the Point Valuations
There are two types of points you can pay on your mortgage loan: Discount points, which are a form of pre-paid interest, or points that are charged for the origination of the loan. Determining whether you "should" pay points on your loan depends on what your financial goals are and how the points will affect the other terms of the loan, such as the interest rate or the other closing costs.
Discount Points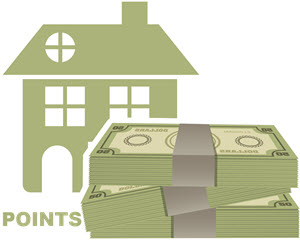 Discount points are usually paid to reduce the amount of interest you pay on the loan. Every point on the loan is equal to 1 percent of the total loan cost. Depending on the loan, you may be able to pay up to 4 points. For example, 1 point on a $200,000 loan would be $2,000. If you paid 4 points, you would pay $8,000.
The amount you can save on your interest rate by paying for points will vary by lender. However, for each loan point you purchase, you can typically reduce the interest rate on your loan by 1/8 percent or 1/4 percent.
Take the example of the $200,000 house: If you have a 30-year fixed-rate loan with a 4.5 percent interest rate, your basic monthly mortgage payment would be $993.10. However, if you pay two points and your interest rate drops to 4 percent, your monthly payment would be $954.83.
Not only can paying points save you money every month, but it can also save you thousands in interest over the life of the loan.
However, if you do not plan to stay in your home over the full life of the loan, you need to carefully evaluate your potential savings. Though you will pay less each month, you will also pay more up front. You should stay in the home long enough to recoup your investment through your monthly savings, or you may end up losing money by paying points.
Discount Points
Discount points are used to buy a lower interest rate throughout the loan. From a tax persepctive they are treated as pre-paid interest. Provided your mortgage document states the number of discount points which were purchased and the number of points you purchased is within the normal range where you live then you may deduct the cost of discount points from your income taxes.
Loan Origination Fees
Most lenders charge origination points to cover the expense of originating the loan. Some loans may charge fees in place of some closing costs. While discount points are tax deductible, loan origination fees are not.
You should analyze your statement carefully to be sure that you aren't paying more in origination and closing costs than you need to pay. Work with your broker to get a proper understanding of all the fees.
Calculating Points
Using the above calculator can help you to determine whether paying points on your mortgage is really worth it to you to help you meet your financial goals. You can use the calculator to learn just how much you can expect to save both on your monthly mortgage payment and during the life of the loan. Experiment with different point values to see how you can maximize your savings. Keep in mind how long you plan to stay in the home when making your decision. If you only plan to be in your home for five years or so, you may consider how you can put the money toward other investments that may have higher yield than what you can expect to save on interest.
Ashburn Homeowners May Want to Refinance While Rates Are Low
US 10-year Treasury rates have recently fallen to all-time record lows due to the spread of coronavirus driving a risk off sentiment, with other financial rates falling in tandem. Homeowners who buy or refinance at today's low rates may benefit from recent rate volatility.
Are you paying too much for your mortgage?
Find Out What You Qualify For
Check your refinance options with a trusted Ashburn lender.
Answer a few questions below and connect with a lender who can help you refinance and save today!