Home Mortgage Rates in Florida
Florida Mortgage Rates and Real Estate Information
Florida is the 4th most populous state in the US, and for good reason. With its warm year round temperatures and miles of beaches, there is no doubt as to why it is referred to as the "Sunshine State." Florida has been a dream destination point for individuals and families for generations. Residents are drawn to the state for its weather, vibrant cities, and quiet coastal areas. This popularity drove up real estate prices for many years, but the markets slow down has helped to lower home prices to a level that is once again affordable for buyers.
Florida Real Estate Prices Compared to National Average
Real estate prices in Florida have always varied dramatically throughout the state. Many affordable areas, outside the major cities, fall below the national median home value of $173,200, such as Cape Coral-Fort Meyers ($87,600), Gainesville ($167,600), and Jacksonville ($145,900). In the cities such as Miami, high rise condos worth several hundred thousand dollars dominate much of the skyline, and million dollar luxury homes line private beaches.
Popular Cities in Florida
Jacksonville (805,605): Jacksonville, FL is the largest city is the state with a strong and diverse economy. Thanks to having the largest deepwater port along the southern coastline, Jacksonville has made itself a hub for transport and distribution throughout the US.
Miami (424,662): As the seat of the largest metropolitan area of the state, Miami, FL is a center for international trade, diverse cultures, and a home for popular media and entertainment productions. Its ports accommodate the largest number of passenger cruise ships in the world. For this reason, many of the biggest cruise lines have located their headquarters there.

Tampa (336,823): Located on the Gulf Coast, the Tampa, FL area is known for its sports teams, and as one of the best outdoor cities in the US. The local economy is driven by the many Fortune 1000 companies that are located in the Tampa Bay area, as well as having the largest overall tonnage port for Florida.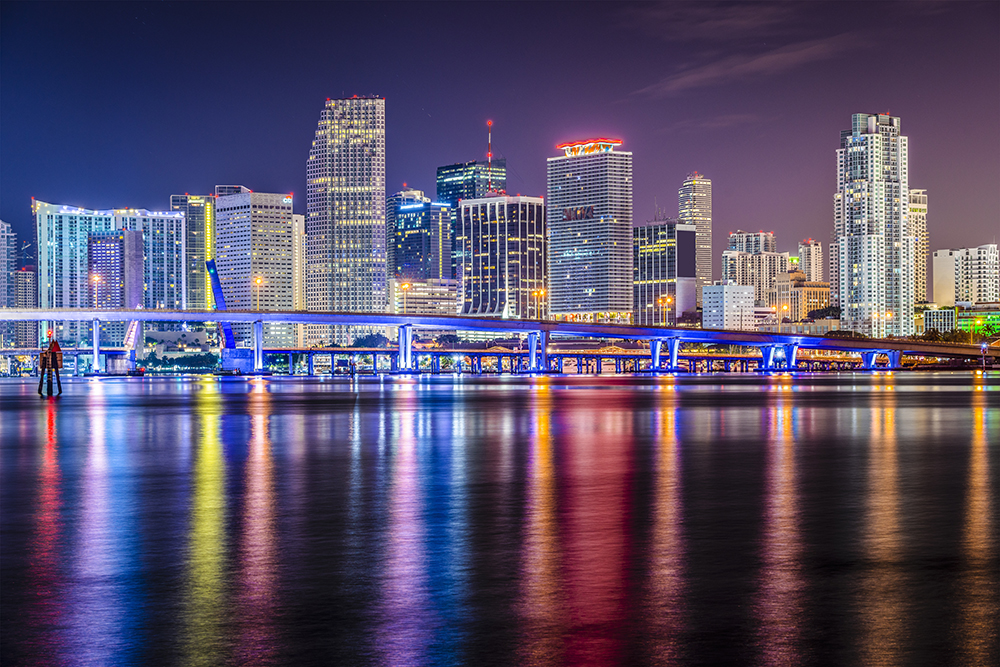 Fastest Growing Cities
Port St. Lucie (151,391): With lower home prices than the nearby Palm Beach area and less congestion, Port St. Lucie has been increasingly popular amongst local Floridians and those who are just moving to the area.
Cape Coral (167,000): Cape Coral began as a master planned community designed to be a "Water Wonderland" with canals that access the Gulf of Mexico and allow for ample water front property. Much of its growth began with a growing retirement population, but younger families have been drawn to the waterfront lifestyle now that real estate prices have dropped to an affordable level.
Florida Mortgage and Foreclosure Rules
Florida follows "lien theory" practices, which means that the real estate in question acts as the collateral for the loan. The borrower holds title to the property, but the mortgage document places a lien against the home in question.
Foreclosure Process in Florida
A judicial foreclosure is required in Florida. When a mortgage has not been paid on time, the lenders must take the borrower to court, and receive a final judgment of foreclosure from a judge. This allows the property to be sold at auction and the lender to be paid back from the proceeds of the sale. This process begins by the lenders filing a lis pendens, which puts a cloud on the title. Then, the homeowner must by personally served with the foreclosure notice, or if that is not possible, a public notice must be made. The property will then be sold at a public auction and the proceeds used to pay the debt owed to the lender.
Right of Redemption
In the state of Florida, a borrower who has lost their home to foreclosure has the right of redemption if they are able to pay the full amount of money owed, along with any extra fees and taxes, before the court records the certificate of sale, which is given to the successful bidder at the auction. Due to Florida's long time frame for completing the foreclosure process, the borrower can have a year or more to stop the foreclosure by paying off the debt owed.
Deficiency Judgments
Florida does allow for deficiency judgments because the lenders have recourse if their loans are not paid back in full. If the home sells at auction for less than the amount the borrower owes, then the lender can sue for the remaining amount.
Important Foreclosure Law Changes to Monitor
The laws for foreclosure in Florida are very close to being changed to a state that allows non-judiciary foreclosures. This will drastically reduce the costs associated with this process for the banks and lending institutions, and shorten the timeframe it takes a person to lose their home from as much as a couple years to only 3 months.
Florida Interest Rates
If you were to compare the median interest rate for Florida home loans with the national average, they will show themselves to be much higher. This can be misleading because the large population areas and exclusive beach front communities have very expensive housing that requires loans that are larger than those allowed by conventional mortgages. When this occurs, buyers must use jumbo loans, which have slightly higher interest rates than a conventional loan does. This makes it look like rates are higher statewide, when in fact, it is only the jumbo loans that are higher.
Mortgage Loans Available in Florida

Fixed Rate Mortgage: By far, the most popular loan type that you will find in Florida is a fixed rate mortgage, or FRM. With interest rates that are fixed at the time of purchase, the concern over future changes in rates is eliminated. This is especially good now as we are experiencing some of the lowest rates in history. You will find many options for 30 year fixed rate mortgages in Florida by speaking with a bank or mortgage broker.
Adjustable Rate Mortgage: These were very popular over the real estate boom years as interest rates were lowering and home values rising. The most common are 1, 3, and 5 year adjustable rate mortgages, or ARMs, which keep a steady rate for that time period and then adjust up or down depending on the current market interest rates at that time. They can still be a great idea for specific buyers who understand their risks, but many people have begun to refinance out of their ARM to a fixed rate on their loan.
VA or FHA Loan: These loans are federally subsidized loans that help buyers who have lower down payments for their home purchase. They will require some type of private mortgage insurance (PMI) because the loans are over 80% of the home's value, but this may be the only way to afford a home for those that can't afford to put down 20% for their home.
Jumbo Loans: As mentioned above, jumbo loans are quite prevalent in Florida due to the higher cost areas that require loans above the level a conventional mortgage can give. Jumbo loans are perfect for mortgages over $417,000 in most areas, and $729,750 in cities deemed high-cost by the Federal Housing Finance Agency.

Secondary Florida Loans
Second Mortgages: A second mortgage in Florida can be a great alternative to only having one loan with PMI. The interest paid on a second mortgage is tax deductible, but the interest rate will be much higher than your first mortgage.
Home Equity Line of Credit: Also referred to as a HELOC, a line of credit can be perfect for people who need to access the equity they have already built in their home. Often used by small business owners, or people that want immediate access to cash for emergencies like home or vehicle repairs, HELOCs work like a credit card where you only pay the interest for the money you borrow.
A second mortgage and home equity line of credit have become more difficult to obtain in Florida over the last few years due to the large number of loans that have gone delinquent in the housing correction. The secondary loans have a lower priority than a primary mortgage when it comes to being paid back during the foreclosure process, which means the risk of these loans have become much higher for banks and lenders.