A Consumer's Guide to IRRRL Streamline Refinance
When to Refinance
Many homeowners have considered refinancing their existing mortgages, either to lower their monthly payments or to free up some much need cash. However, following the financial crisis of 2008 (and the ensuing economic downturn) opportunities to refinance an outstanding mortgage became increasingly limited. Lenders who had formerly been eager to offer refinancing deals began to find themselves under intense scrutiny from both their shareholders and the government, and loans for all but the most exceptional borrowers became increasingly difficult to secure. Fortunately, with the economy on the rebound, lenders are once again loosening their purse strings, and it is becoming easier for qualified customers to obtain a new mortgage. So much so, that many lenders are now offering 'streamlined refinancing' options for qualified borrowers.
There is a general rule in the industry that states that if the present interest rate is lower than the mortgage by two percentage points, refinancing can make sense. Some streamline refinancing options remove some of the costs and friction from the refi process & can make a far smaller rate move still rather compelling for borrowers. And while streamline programs may lower costs, homeowners also need to see other competitive rates in order to determine if the streamline programs they are offered are not only easier than a typical refinance, but also if they are competitive with the best rates offered at other financial institutions. Here is a rate table highlighting current rates in your area.
What is Streamline Refinancing?
Anyone who has tried to refinance their existing mortgage understands just how rigorous the application process can be, particularly if it involves changing lenders. Streamlined refinancing aims to simplify the process, reducing the paperwork and fast-tracking the new loan so borrowers can save time as well as money. Often there is no credit check involved, limited asset and earnings verification, and in many cases there will be no need for a new appraisal of the applicant's property. The lender essentially relies on the information submitted with the original mortgage application, and bases the refinance agreement on those stats. This effectively speeds up the process and, for many homeowners, increases the likelihood of approval.
The primary benefits of streamline refinancing include:
Minimal credit requirements
Limited asset and income verification
No appraisal required
Reduced paperwork
Lower closing costs
Faster loan processing
Of course, streamline mortgage refinance does have it's own set of rules and regulations that are meant govern both lender and borrower, and while the application process is greatly simplified it does not guarantee approval. First and foremost, the refinancing agreement must demonstrate a 'net tangible benefit' to the borrower. In other words, it should provide a substantial savings for the homeowner that supersedes any costs related to refinancing and should not merely be a vehicle for increased profit on the part of the lender. Secondly, there can be no cash payout for the borrower as often occurs with traditional mortgage refinancing. Streamline refinancing exists only to reduce the burden of an outstanding mortgage, and can not be used by borrowers to raise ready cash.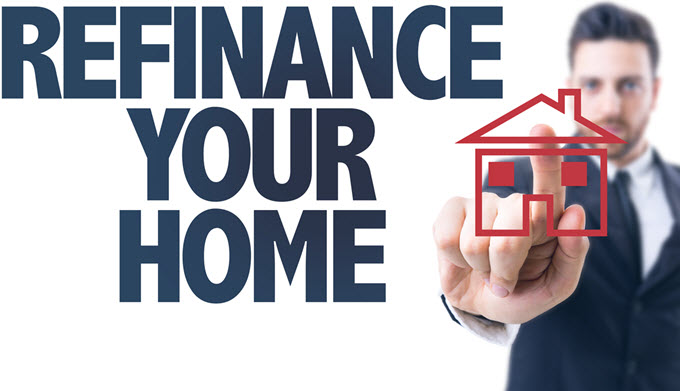 There are three basic types of streamline refinancing to be aware of, each with their own set of rules and regulations:
FHA Streamline Mortgage – Available to homeowners with an existing FHA backed mortgage
VA Streamlined Refinancing Loan – Available to active military, reservists, and veterans holding a VA backed home loan
HARP Streamline Refinance – HARP and HARP 2.0 are streamline loan programs available to underwater homeowners
When shopping for a streamline refinance, whether FHA, VA, or HARP, it is important to choose a lender with experience administering this particular mortgage product. Many banks do offer refinancing opportunities for eligible borrowers, but they may not necessarily fall into the 'streamline refinance' category.
FHA Streamline Refinance
FHA streamline refinance is a specific mortgage product reserved for homeowners with an existing FHA insured mortgage. The program offers a fast and easy way for homeowners to refinance their outstanding mortgages at today's, often more forgiving, interest rates. FHA refinance mortgages come in both 15 and 30 year terms, and are available at either fixed or adjustable interest rates. One of the most important features of the program is that it is available to all qualified FHA mortgage holders, including those with minimal equity in their homes as well as those who may be currently underwater with their loans.
Some of the defining characteristics of FHA streamline refinancing include the following:
No Verification of Income or Assets – Applicants are not required to verify current employment, annual income, or actual assets as long as the borrower meets all other FHA requirements.
No Credit Check – The FHA does not use the applicant's current credit score as a determining factor in granting a refinance loan. Instead, they rely on the borrower's existing mortgage payment history.
No Property Appraisals Required – The FHA uses the original purchase price of the applicant's home, or the most recent appraisal value, do determine the valuation of the refinance loan. Even homeowners who are underwater, or who lack equity in their home, can be approved for a streamline refinance mortgage.
Payment History – To qualify for an FHA refinance loan, applicant's must demonstrate a perfect 3 month payment history on their existing mortgage. One late payment within a 12 month period is allowable.
210 Day Waiting Period – To be eligible for a streamline refinance, borrower's must have made at least 6 payments on their existing mortgage, and no less than 210 days can have passed since the original closing date.
Applicants Must Demonstrate a Net Tangible Benefit – To qualify for FHA refinancing, borrowers must be able to prove that the new loan will lower the cost of their mortgage significantly, either by lowering the interest and insurance costs or by switching from an adjustable rate to a fixed rate loan. Taking 'cash-out' to pay bills is not considered a Tangible Net Benefit, and is not allowed under FHA guidelines.
New Loan Balance Shall Not Include Loan Costs – The borrower's new loan balance is limited to current principle balance + the upfront mortgage insurance payment. All other costs, including origination fees, title charges, and escrow population, must be paid by the borrower in cash at time of closing. (Some banks do offer no-cost FHA refinancing, in which they wave the fees associated with the new loan. However, these typically result in higher interest rates and larger monthly payments for the borrower.)
Mandatory Insurance Requirements – Approved borrowers are required to make two types of mortgage insurance payments, a single upfront payment at closing and an annual payment of broken down into 12 monthly installments.
VA Streamline Refinance
VA streamline refinance, sometimes referred to as the Interest Rate Reduction Refinance Loan (IRRRL), is a specific mortgage product only available to active members of the military, reservists, and veterans with an existing VA home loan. The VA's program shares many of the same features as the FHA refinancing program, with a few major exceptions. With the VA streamline refinance borrowers are allowed to roll closing costs into the total cost of their new loan, allowing veterans and active military personnel to refinance with no out-of-pocket expenses. The VA's streamline refinancing program also allows borrowers to take advantage of a cash-out option for the purpose of making energy efficient improvements to their property. Finally, unlike other streamline refinance programs, homeowners with a VA mortgage may take the opportunity to change lenders provided the new lender is VA-approved and can offer a lower interest rate.
Those wishing to take advantage of a VA streamline refinance must meet the following requirements:
Applicants must be current with their existing mortgage, having no more than one late payment (under 30 days) in a 12 month period.
The borrower's new monthly payments must be demonstrably lower than with their existing loan. (This condition does not apply if refinancing results in the switch from an adjustable rate mortgage to a fixed rate mortgage.
Borrowers may not receive a cash-out allowance except for the purposes of home improvements, and any payments will be made 90 days after work has been complete and proof of costs submitted.
Applicants must be able to certify that they are currently occupying the property, or have occupied the property within the last six months.
Applicants must have previously used their VA loan eligibility on the property being refinanced. (The information from the existing loan will be used to determine the valuation of the new mortgage)
The amount of the refinanced VA loan will be limited to the existing loan balance plus late fees and typical closing costs.
HARP Streamline Refinance
The Home Affordable Refinance Program, or HARP, was designed to help American homeowners refinance their mortgages at a lower interest rate despite owing more than their property is actually worth. Following the real estate market crash of 2009 many homeowners in the U.S. found themselves underwater with their mortgage loans, causing the Obama administration to introduce a program that would allow homeowners to refinance their existing mortgages regardless of the loan-to-value (LTV) ratio. HARP follows the same basic requirements as other streamline refinance programs, although to qualify borrowers must be holding mortgages that are owned by either Fannie Mae or Freddie Mac.
Refinancing via HARP was intended to only be available for a limited time; however, the application window has been extended until December of 2016. To qualify for a HARP refinance loan applicants must meet the following requirements:
The homeowner's current mortgage must be owned by Freddie Mac or Fannie Mae
The applicant's current loan must have closed before May 31, 2009
The applicant's current mortgage must have a loan-to-value ration of more than 80%
Borrower's must be current with the payments on the existing loan, with no late payments over the last 6 months
Homeowners may not use HARP on a single property twice
Mortgage Lenders and Streamline Refinance
Many different banks and mortgage lenders offer streamline refinancing opportunities for qualified customers. That being said, it is important to differentiate between a lender's own refinance products and those associated with the FHA, VA or HARP. Not every bank is licensed to offer these types of mortgage products, and it may be necessary to review a variety of lenders before finding the one that best suits your situation. Some may have more experience with FHA or VA refinance, while others may specialize in HARP loans. It is also worth noting that approval for any of these programs is entirely left to the discretion of the lender, so it may be necessary to shop around before finding a bank, credit union, or other mortgage lender that can offer the most suitable refinance product for your specific situation.
While streamline refinancing through the FHA, VA, and HARP programs provides an easier path to a new mortgage, it does not necessarily guarantee lower interest rates or reduced loan costs. In some instances it may be more beneficial to go with a traditional refinance, even though the process of application can be more time consuming. As with any mortgage product, it is important to review your options and look for a lender who can offer a refinance package that will that will do more than simply save time, but will also save you money over the life of your new loan.
San Diego Homeowners May Want to Refinance While Rates Are Low
The Federal Reserve has hinted they are likely to taper their bond buying program later this year. Lock in today's low rates and save on your loan.
Are you paying too much for your mortgage?
Find Out What You Qualify For
Check your refinance options with a trusted San Diego lender.
Answer a few questions below and connect with a lender who can help you refinance and save today!