RV Loan Calculator
This calculator figures monthly recreational vehicle loan payments. To help you see current market conditions and find a local lender current current Ashburn RV loan rates and personal loan rates personal loan rates are published below the calculator. The second monthly payment budget calculator shows how expensive of a RV you can buy given a monthly loan payment.
Monthly RV Loan Budget
Use this calculator to estimate the recreational vehicle price you can afford given a set monthly loan payment. To help you see current market conditions and find a local lender current Ashburn RV loan rates are published in a table below the calculator.
Current Ashburn Recreational Vehicle Loan Rates
Rent an RV
Unsure if you should buy? Try renting an RV from RVShare to see how well the RV lifestyle fits you before committing to a 6 or 7 figure purchase.
Lease Out Your RV
Most RV owners leave their RVs idle about 90% of the time. Have your RV pay for itself by renting it out when you are not using it.
RVshare estimates owners can earn up to the following amounts per year.
| Recreational Vehicle Type | Annual Income |
| --- | --- |
| Class A Motor Home | $60,000 |
| Class C Motor Home | $38,000 |
| Class B Camping Van | $30,000 |
| Fifth Wheel, Pop-up Campers, Toy Haulers & Travel Trailers | $22,000 |
A Consumer's Guide to RV Living
The call of adventure is hard to resist, and for many men and women nothing beats that sense of freedom and excitement that comes from exploring the country in fully tricked-out RV. More than simply recreational vehicles these moveable homes allow you to travel the highways and byways of America in comfort and style, letting the road and your sense of adventure take you where they may. But there's a lot to consider before you strike out on your latest cross country adventure, and you need to carefully consider what it takes (both financially and personally) to join the ranks of the RV enthusiast.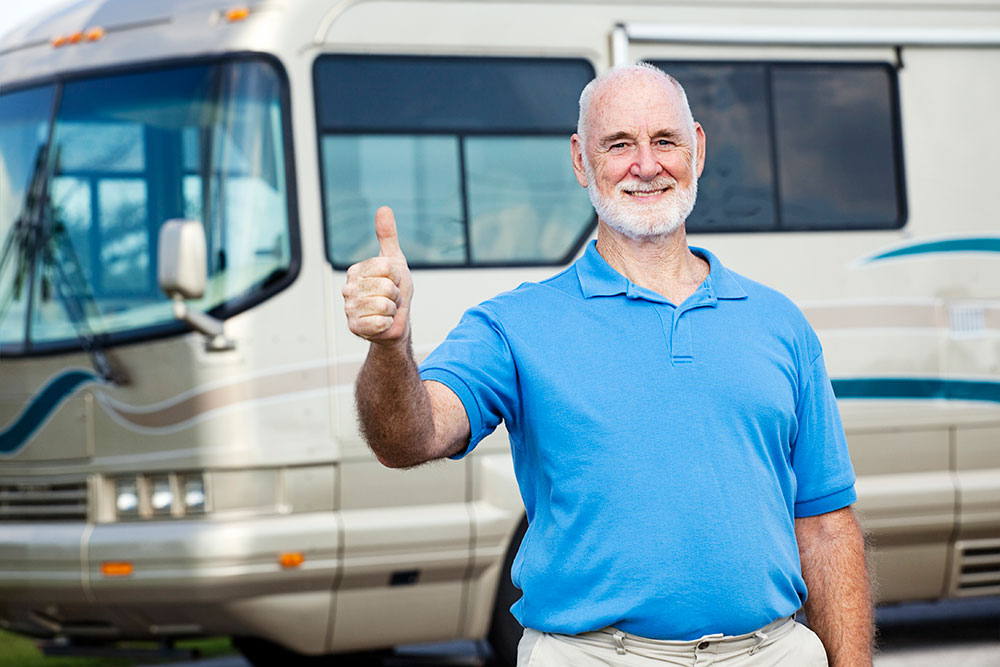 Choosing A Vehicle That's Right for You
The RV lifestyle has much to offer both full-time and part-time adventurers. However, in order to get the most out of your travels it's important to choose the right type of vehicle. That means choosing a vehicle that not only falls within your general budgetary restrictions, but that also matches up with your overall traveling ambitions. You'll find that there are a number of different vehicles that fall under the broader heading of RVs. These range from luxurious motor-coaches featuring all of the amenities you might expect to find in a permanent home to the more modest pop-up campers and travel trailers that act as cozy homes away from home for those weekend fishing trips and summertime camping holidays.
Deciding which type is best suited to your needs begins with taking a closer look at the different types of recreational vehicles on the market:
Class A
Class A RVs are the largest and roomiest of all the self-contained motorhomes on the market. They offer most of the features and amenities you would expect to find in a modern stationary home including comfortable living areas and sleeping quarters, full kitchens and bathrooms, and ample storage space for life's necessities while you're on the road. Most class A options come with state-of-the-art entertainment systems and are wi-fi enabled, making them the ideal choice for full-time living or long-haul traveling.
Class A motorhomes represent the pinnacle of RV living, and can be customized to meet nearly every buyer's demands. Naturally the cost of these moveable homes varies according to model. Entry level models typically sell for between $200,000 and $300,000 new and without any custom add-ons. More exclusive models, featuring luxury upgrades, can easily run upwards of $1.5 million or more.
Popular models include: the Winnebago Solei, the Coachman Pursuit, and Foretravel's ih-45
Class B
Class B motorhomes, sometimes referred to as camper vans, are the smallest vehicles in the RV family. While they don't offer the luxury of their larger class A cousins, class B options still manage to deliver enough creature comforts to make living on the road enjoyable for small groups of 2 to 3 travelers. To maximize the more limited space class B vehicles typically come with twin beds or a fold-away sofabed, limited kitchen areas and compact bathroom facilities.
Class B is often the preferred choice for weekend travelers and short term holiday makers, largely due to the vehicles' ease of handling and overall fuel efficiency. Class B motorhomes handle much like a standard van or SUV, and in a pinch can do double duty as a second family car. Due to their smaller size and more limited features class B motorhomes are substantially less expensive than their class A and class C counterparts. Entry level models have a retail price of about $80,000, while more luxurious models can run as much as $125,000 - $175,000.
Popular models include: Ford's Pleasure-Way Travers, Airstream's Interstate, and the Hymer Aktiv
Class C
The class C motorhome is something of hybrid, combining the best elements of class A and class B vehicles. With their over-the-cab sleeping and storage areas class C RVs are able to expand the overall living space of the vehicle without reaching the full dimensions of a class A motor-coach. By utilizing this extra space manufacturers are able to offer travelers all of the comforts of home, albeit on a smaller scale. Think of class C vehicles as less of a house on wheels and more of a highly comfortable traveling apartment.
Class C motorhomes can vary in length from 20ft to 40ft, making it easy to find a model that will match your traveling plans. Larger models in this class often include slideouts to provide extra room for passengers when the vehicle is parked, and can be outfitted with the latest in appliances and entertainment features to provide a comfortable home away from home.
The average cost of a class C motorhome is $50,000 to $80,000 depending on size and amenities. Retail prices for luxury Class C start at around $115,000 or greater depending on the make and model.
Popular models include: the Itasca Navion, the Jayco Redhawk, and the Forest River Sunseeker
Fifth-Wheel Trailers
Fifth-Wheel travel trailers offer more square footage than any other RV, making them a good choice for larger groups or travelers or for those adventurers who plan to live in them full-time. Fifth-Wheel trailers typically feature split-level floor plans providing ample living space for occupants. Sizes vary from a modest 25ft to an impressive 45ft making it easy to find a model that suits both your budget and your lifestyle.
Fifth-Wheel trailers are not self contained RVs, so depending on the model you would need a pickup or flatbed truck with the necessary towing capacity to haul your home on wheels. Having said that, fifth-wheel trailers are very popular with enthusiasts because they are generally less expensive ($40,000 – $125,000) than a comparably sized motor-coach. They are also cheaper to maintain than Class A or Class C motorhomes.
Top rated Fifth-Wheel Trailers: the Airstream Land Yacht, the Coachman Brookstone, and the Grand Design Solitude
Travel Trailers
Travel trailers are often the most popular option for those looking for an inexpensive and versatile towable RV. Most models are compact and lightweight, so they can be successfully towed by a pickup truck or SUV. Despite their compact size, however, travel trailers can offer similar features to class A and class C motorhomes at a fraction of the cost. If there is a downside to the standard travel trailer it is that passengers can not ride in the trailer during transit, so larger groups of travelers may find it inconvenient while they are on the move. Still, at an average cost of $15,000 to $30,000 (depending on size and amenities) travel trailers are a good fit for first time buyers and part-time holiday makers.
Top rated travel trailers: Jayco Jay Flight, Forest River Rockwood, and the Gulfstream Trailmaster
Pop-Up Campers
Pop-up campers are the most compact and affordable towable trailer options on the market. They are easy to tow and park, and once at your destination they quickly transform into a rigid tent-like structure with ample room for 4 or more occupants. It must be said, however, that most pop-up campers are fairly sparse when it comes to amenities, and depending on the model you may have to opt for custom add-ons (shower, toilet, mini-kitchen) in order to get the most out of the purchase. Still, pop-up campers are relatively inexpensive ($5000 to $15,000 depending on size and furnishings) and are a good fit for weekend trips or short camping holidays. If you're thinking of spending a lot of time RVing, however, a pop-up camper may not be the best option.
Top 3 pop-up campers: Aliner Classic, Coleman, Livin Lite Quicksilver
Truck Camper
Truck campers are small RV units that are designed to fit into most standard truck beds. They are ideally suited to one or two travelers, and typically offer basic amenities like a toilet, shower, and cooking area. Basic truck campers are fairly inexpensive, often running as little as $8000 to $10,000. Luxury models with additional features can run as much as $50,000 depending on the manufacturer. Truck campers are, by their very nature, highly compact, offering little in the way of living space. This makes them ideal for short trips and overnight camping or fishing jaunts, but poorly suited to long-haul traveling.
Popular truck camper brands: Palomino, Northwood, and Travel Lite
SURV Trailer
Sport Utility Trailers, sometimes called Toy Haulers, are towable units that offer garage like storage for motorbikes and personal water craft. Toy haulers can be towed by self-contained motorhomes or trucks, depending on the type of traveling you're doing. In a pinch the storage area can be converted into a bedroom or living space, though the amenities will be slim to none. Toy haulers should be seen more as useful accessories than potential living areas.
Top rated Toy Haulers: Forest River Wolf Pack, the Dutchman Kodiak, and the Keystone Carbon
What to Look for When Shopping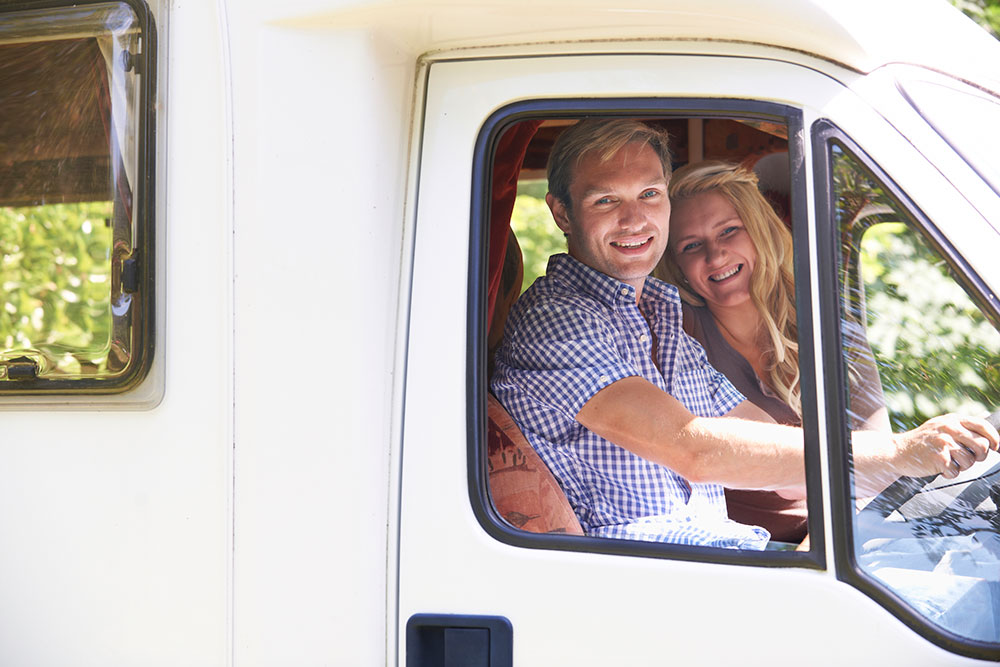 Now that you have a better idea of the different options that are available, it's time to get down to the nitty gritty of shopping for your next recreational vehicle. As we've seen there are a wide variety of makes and models on the market, and the type of vehicle you choose will depend on a number of key factors. Setting aside cost for a moment, and whether or not you will be purchasing a new or used model, you need to take a moment to think about the type of experience you are aiming for. Some buyers are looking for something that will provide comfortable long term housing while they travel the country, while others are looking for a trailer or motorhome that will act as a temporary home while they are on holiday. How you intend to use it will play a large part in determining the type of vehicle you need.
Using your ultimate travel and living plans as a guide, consider the following points to help you narrow down your choices:
With these key factors in mind, you will want to take your time researching the various makes and models that fit your lifestyle, budget, and travel plans. At this point in your journey the internet can be a very real asset. Leading brands like Airstream, Coachman, Entegra and Forest River RV maintain extensive websites featuring all the specs on their latest models. You can compare and contrast floor plans, stock and custom features, and specific price points.
There are also a wide variety of enthusiast and consumer reporting websites that can offer valuable insight as you shop for a new or used vehicle. The following sites can often help you narrow down your choices to a select few outstanding options:
NADA also publishes an appraisal guide for recreational vehicles.
Top Tip for RV Buyers: Try Before You Buy
When you find a model that you like, try to rent one for a short trip. This will give you real life experience of the living and traveling conditions you can expect when you make your actual purchase.
Hidden Costs and Expenses
When it comes to buying it's only natural for buyers to first focus on the sticker price of their vehicle. But ownership comes with a variety of extra costs and expenses – some hidden and some not so hidden. Before you commit to a purchase, regardless of size or model, it is important to familiarize yourself with these added expenses. These additional costs are not insignificant, and will directly impact your enjoyment of your new recreational vehicle.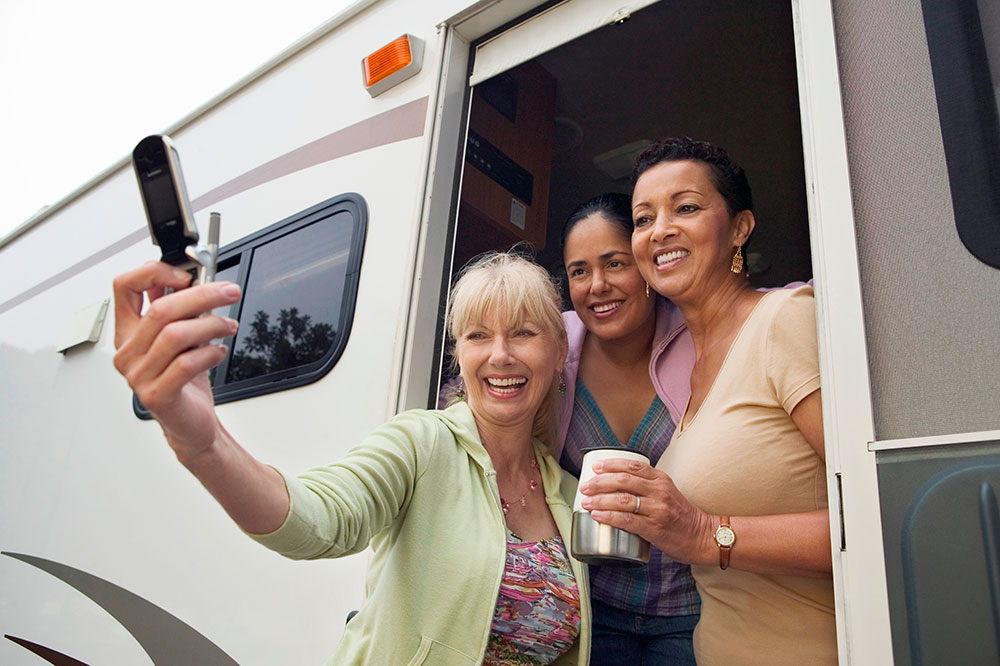 Some of the more important hidden costs of ownership include:
Maintenance – All vehicles require regular maintenance, and RVs are no exception. It's worth noting that larger options, particularly those that are stocked with custom features, tend to require extra care and maintenance to keep them in peak running and living condition. Towable trailers may require less maintenance than their self-contained cousins, but even they will need regular servicing. Buyers considering a self-contained motor-coach will likely have a choice of gasoline or diesel engines. Keep in mind that while diesel engines may improve your fuel efficiency, gasoline engines are much easier to service and maintain, especially when you're on the road and away from your regular mechanic.
Fuel Costs – The public has gotten used to highly fuel efficient cars and trucks, but you can't really expect that kind of fuel economy from an RV. Depending on the size, make and model self-contained motorhomes tend to get between 8 to 20 MPG. Even if you opt for a towable trailer the extra weight you will be pulling will impact your overall fuel efficiency.
Towing – If you will be towing your RV you will need to consider whether or not your current vehicle is up to the task. Depending on the model you are considering, you may need to upgrade or replace your current vehicle to ensure that you have the necessary towing capacity.
Insurance – As with any vehicle, RV insurance is a mandatory requirement and depending on the make and model can be quite costly. For instance, adequately insuring a class A motorhome typically costs around $100 per month, with charges depending upon the amount insured and the local state laws. Premium high-value homes could cost as much as $300 or $400 per month to insure in some states. Like any auto insurance policy rates are largely dependent on the type of vehicle, how it will be used, and the applicant's driving history.Insurance is one area where you don't want to cut corners. Your motorhome or trailer is a substantial investment, and as you will be both traveling and living in your RV you will want to look for the best possible insurance policy.
Parking and Storage – When you're not on the road exploring the country you will have to consider where to park. Most homeowner's associations don't allow RVs, so you may have to consider other storage options for your motorhome or trailer. The price of monthly or weekly storage will add to the overall cost of ownership even when you're not on the road.
Overnight Camping – One of the joys of RVing is that wherever you go you're at home. But there's a catch. You generally have to pay a fee to park overnight and set up camp. There are some places that offer free overnight parking (WalMart, Kmart, truck stops), but the facilities will offer little in the way of support or amenities. National parks and commercial campgrounds typically require a nightly fee, but you do have access to electricity, water, internet and other necessities.
Luxury Living – Your RV will become, at least for a time, your home on wheels. You may want to outfit your home with all of the latest modern conveniences like a state-of-the-art home entertainment system, satellite TV, wi-fi booster and GPS. These additions will definitely make life on the road more comfortable, but they will also increase the overall cost of ownership.
Sales Tax – Sales taxes vary by state, but as an example of the potential cost, on a $100,000 purchase a 6% sales tax would amount to an extra $6,000 spent.
New vs Used – Which Purchase is Right for You?
By now you should have a better idea of the type of vehicle your are interested in buying, and the additional costs that go with ownership of a motorhome or towable recreational trailer. The question now is whether you want to by a new RV or a second-hand model. Either choice comes with its own distinct advantages and disadvantages, and it's worth considering both options carefully before making your decision.
Advantages & Disadvantages of Buying New
✓

Pros

⨯

Cons
Vehicle History – Whether it's a motor-coach, trailer or pop-up camper RVs are subject to wear and tear through regular use. Buying a new model guarantees that your vehicle will have a clean history of accidents or damage.
Cost – Whether it's a self-contained motorhome or a travel trailer, similar new models are always going to be more expensive than second-hand models. That being said, as a customer you always have the right to haggle over the sticker price to obtain a better deal. It is not uncommon to get 30% to 35% off sticker prices & dealers expect you to haggle for a deal.
Low Mileage – A new motorhome should have little, to no, miles on it.
Insurance – New models are typically more costly to insure than comparable used models.
Latest Upgrades – New models will feature the latest in technological upgrades, both as vehicles and as living spaces.
Depreciation – Like any vehicle, an RV begins to depreciate the moment you drive it off the seller's lot. It's worth noting that RVs depreciate much faster than other vehicles, so the hit can be substantial.
Warranty – A new vehicle will be under warranty for 1 to 2 years. Depending on the offer, an extended warranty is often a smart option.
Advantages & Disadvantages of Buying Used
✓

Pros

⨯

Cons
Cost – Second-hand RVs are naturally less expensive than newer models, so buying used can help you stretch your budget.
Pricing – While a used RV is typically less expensive than a newer model it can be difficult to know just what a fair market asking price should be. Before buying used research the make and model you are interested in to figure out its current market value. The Recreational Vehicle Blue Book is a good online resource for estimating the current market value of most self-contained and towable RVs.
Insurance – It is generally cheaper to insure a used motorhome or travel trailer. However, the savings here will be largely dependent on how you will be using it. If you are thinking of making it your full-time home, the discount in insurance may not be that significant.
Vehicle History – When buying any used vehicle there is always a question of condition and history of accidents. Before committing to the purchase of any second-hand RV be sure to have it checked out by a reputable mechanic with experience working on motorhomes and travel trailers.
Resale Value – Again, RVs depreciate in value fairly quickly. Buying used gives you a better chance of recouping a larger part of your investment should you decide to sell your vehicle in the future.
Maintenance – A second-hand RV will likely require more maintenance than a new model, and without a manufacturer's warranty the cost of the maintenance will be coming out of your pocket.
The choice between new or used is a personal decision, and each option comes with its own advantages and disadvantages. One point that is worth considering, however, is your experience with RVing. If you are a novice, you may be better served by purchasing an inexpensive second-hand RV. If you find the lifestyle is not to your liking, or you simply do not get as much use out of it as you had expected, you can resell the vehicle without take as large of a hit on the depreciated value.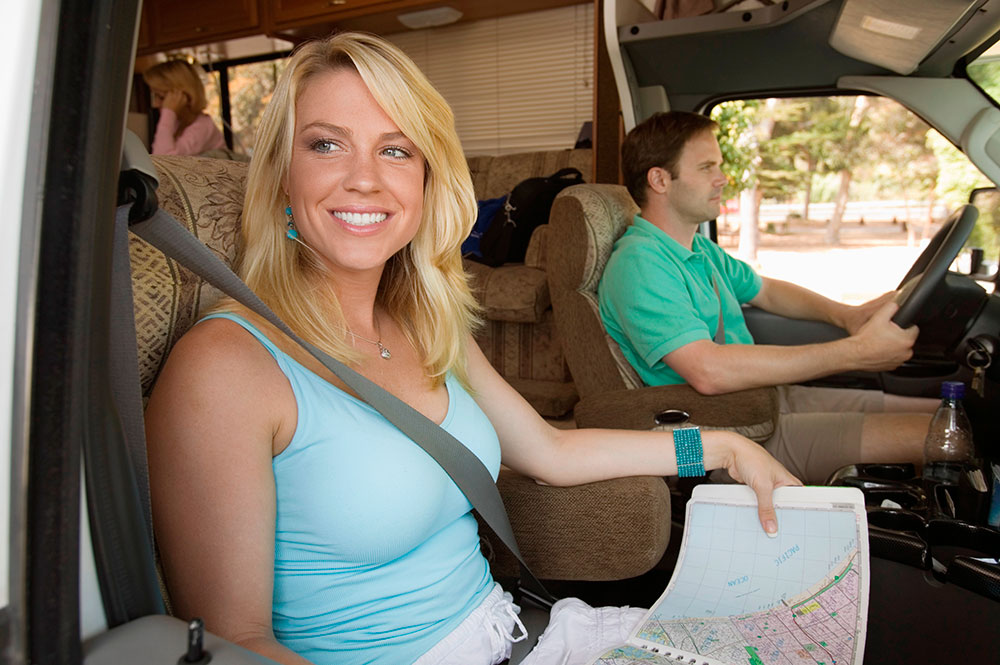 Financing
Purchasing an RV is a major investment, regardless of the make or model, and buyers need to carefully consider their financing options. Most banks and credit unions offer loans for qualified applicants. Financing is also available through dealerships and independent financing companies. As with any loan it is important to full investigate all of the possible options and weigh the pros and cons of each loan offer before choosing a lender and signing a contract.
RV loans share come characteristics with car loans, though certain aspects of RV financing are more closely related to taking out a mortgage on a home. Like all loans, credit approval and final interest rates are dependent on a few key factors:
Credit Rating
Personal Assets
Verified Income
Ability to make timely payments
Unlike financing a car or motorcycle, RV loans typically come with extended terms of 15 to 20 years depending on make, model, and cost of the vehicle in question. Interest rates will vary according to lender, and it is always advisable to research and compare a number of loan offers in order to obtain the most attractive rates and repayment plans for your loan. In some instances, particularly in the case of Class A, Class C, and fifth-wheel RVs, the interest on your loan may be tax deductible as the vehicles can be classed as second homes.
Frequently Asked Questions About Financing
When you're ready to start researching loans, there are a few questions to keep in mind while you review any and all financing offers. Understanding these key areas of the loan agreement will help you narrow down your options until you find a lender that is offering the best possible deal.
How Long is the Term of Your Loan? – Most RV loans are written with extended terms, usually 15-20 years. However, this is not a hard and fast rule, and all lenders will follow different standards.
How Will the Interest Rates on Your Loan be Determined? – The interest rate on your loan should be determined by the total loan amount, your projected down payment, your current credit score, and the age and value of the vehicle in question. Other factors may come into play, but these are the core points of review when lenders calculate interest rates on loans.
How Will the Interest on Your Loan be Calculated? – Like car loans, RV loans are calculated using simple interest, meaning you will only pay interest on the principle owed at the time of your payment.
How Much of a Down Payment is Required? – Most banks and credit unions require a minimum down payment of 20% of the total cost being financed. Lenders who specialize in RV financing can sometimes reduce the required down payment to 10% – 15%, but your interest rates may suffer from the reduction.
Will the Interest on Your RV Loan be Tax Deductible? – For larger RVs that are being used as a second home it is possible to qualify for federal tax deductions. However, it is advisable to talk this over fully with your lender to be certain of your tax obligations.
Are there Penalties for Early Repayment? – Most loans do not include penalties for early repayment, but it is always wise to check with your lender before signing any agreement.
What are the Penalties for Late Payments? – Late payment fees are to be expected with any loan. However, penalties for late payments may also include an increase in interest rates for the remainder of the life of your loan, so it is an important point to raise with your lender.
Common Pitfalls to Avoid When Shopping for a Loan
Applying for any loan requires careful consideration. Naturally, the prospect of buying a new RV and heading out on the road brings with it a good deal of excitement, and it can be all too easy to get caught up in the moment and miss some key points when it comes to securing the financing for your purchase. Before you sign on the dotted line, slow down and consider the following common mistakes people make when applying for financing.
Shop for Your RV before You Shop for Your Loan – This is an all too common mistake, and one that is easy to avoid. You want to start researching financing options before you decide on the vehicle you want to purchase. You need to have an idea of how much money you have to spend before you get your heart set on a specific make or model. Naturally, the type of RV you purchase will have a significant impact on the particulars of your final loan agreement, but having a basic idea of your financial status will help to guide you as you shop for your new home away from home.
Not Comparison Shopping – This is one of the bigger mistakes buyers make. When shopping for a loan take the time to compare and contrast offers from at least 3 or 4 different lenders. It is also worth comparing the offers from different types of lenders such as credit unions, banks and companies that specialize in RV loans.
Dealer Promotions – Dealerships often try to entice buyers with special promotions. These can often be great deals for the buyer, but it is important to tread carefully. Just as often these special promotions include hidden fees or deceptive introductory rates that can ultimately increase the overall cost of your purchase. Read the fine print carefully. You might find you can get a better deal from an independent lender.
Know Your Credit Score – Your credit history plays a large part in determining whether or not you qualify for a loan, and what the terms and conditions of that loan will be. Knowing your credit score before you begin shopping for a loan will give you the advantage when negotiating the terms of your agreement. Before applying for any loan, check your credit report and request a free copy of your credit score from one or all of the three major reporting agencies (Equifax, Experian, and TransUnion). Verify that all of the information is current and correct, and if there are any mistakes take steps to rectify them before applying for any loans.
Borrowing too Much – Buying an RV is a major investment, and you need to know what you can and can not afford. Carefully review your budget, taking into account all of the costs of ownership, and be certain you can afford the financing for your purchase before you sign on the dotted line.
If you keep these tips in mind, you can avoid many of the common pitfalls associated with financing a new or used RV.
Hitting the Open Road
Yes, the lure of the open road is hard to resist, and with the right RV you can travel the country in stylish comfort. But before you dive into a life of adventure, it's worth taking some time to consider what type is right for you. Think about your travel plans and your experience with the lifestyle. Carefully consider what you can afford and how you will finance your purchase. Fully research your lending options until you find a lender that can offer a financing agreement that works for you and your future plans. When you have found a lender that you are comfortable with, it will be time to make your purchase and set out for adventures unknown in the RV of your dreams.
Ashburn Home Buyers May Qualify For Low Downpayment Home Loan Options
Explore conventional mortgages, FHA loans, USDA loans, and VA loans to find out which option is right for you.
Find Out What Loan You Qualify For & Get Pre-Approved Today
Check your options with a trusted Ashburn lender.
Answer a few questions below and connect with a lender who can help you save today!