Credit Card Comparison Calculator
This calculator will help you to compare long-term costs of varying interest rates, annual fees, introductory rates and ongoing rates. Enter a balance, a payment, and the APR for each card, then click the "Compare" button. Please note that for simplicity sake fixed payments (the same amount for all payments) are used to compare costs. If you ever pay less than the entered amount, your costs will vary from the results of this calculator. If there is no introductory rate offer, leave the introductory field blank.
Are You Paying Too Much Interest on Your Cards? How Much Could You Save by Consolidating Your Debts?
For your convenience we publish current personal loan rates, HELOC & home equity loan rates & San Diego mortgage refinance rates which you can use to estimate your payments and find a local lender.
Pay Off Your Debts Faster by Leveraging Your Home Equity
San Diego Homeowners: Leverage Your Home Equity Today
Our rate table lists current home equity offers in your area, which you can use to find a local lender or compare against other loan options. From the [loan type] select box you can choose between HELOCs and home equity loans of a 5, 10, 15, 20 or 30 year duration.
What You Need to Know to Compare Card Offers
In spite of the taboos of credit card usage, they can be extremely useful and even beneficial. They can offer you identity theft protection, cash back, rewards, travel insurance and a long list of additional benefits. Before you start researching your options, determine your credit score; as this will help you determine which cards will be available to you. Once you've determined your creditworthiness, the following information will help you find the best offer for your particular situation.
Low Interest Rates
If you carry any kind of debt, are trying to consolidate debt, or typically have trouble paying your bills by the due date, finding a low interest rate is critical. You'll want to consider taking advantage of 0% introductory offers, however, be sure to verify how much the balance transfer will be and how high the rate can go up later. Low interest offers come in two forms; 1) Introductory 0% low ongoing APR is a good choice if you're making a one time big purchase and aren't likely to hold the card for more than a few years; 2) If you have a tendency to carry a month to month balance, you should consider an option that provides a consistently low rate. Some low interest choices to consider include:
Chase Slate® While this card may not be known for its intro offers or rewards, it's worth checking out because of its no balance transfer fee for the initial 60 days. It's the only option offering both a no balance transfer fee and a 0% intro period.
Discover it® This card has it all; whether you're looking for earning rewards or you want to shed debt, Discover It offers 14 months of 0% interest on transfers and purchases, 5% cash back in revolving bonus categorizations, a high as a hefty $1,500 spent quarterly. Additional perks include no foreign transaction fee or penalty APR, the first late payment is forgiven and you get return and warranty protection on purchases.
Credit Cards with Rewards/Annual Fee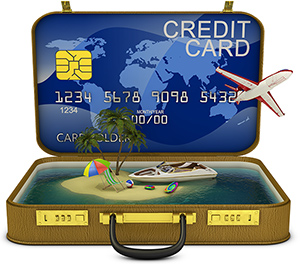 If you're a frequent, heavy card users and/or pay off your balance each month, options with rewards and an annual fee may be worth it because they usually come with ample rewards from deals on travel, accommodations and flights, to meet and greets with celebrities.
Business Cards
Many American Express cards for businesses come with exclusives which are hard to obtain otherwise. In some cases new small businesses may struggle to access capital via traditional business loans and have little choice other than to use a credit card to fund their business. Annual fees and rewards may vary for different tiers under the same account. For instance, an American Express platinum card might cost $750 per year while gold cards linked under the same business account come with no annual fee. The AmEx Plum Card® costs $250 per year and offers a 1.5% cash back bonus.
No Credit?
Individuals with no credit generally consist of new immigrants and students who have never taken out a loan. Even though their slate is theoretically clean, when it comes to credit history nothing is worse than bad credit. Here are some options that can help you build credit.
Prepaid Cards
Prepaid cards don't require a credit history and they can be used just like a traditional regular card to pay bills or make online purchases. You can also benefit from bonuses that include cash back offers and you don't have to worry about exceeding your limit or incurring late fees. Before you sign up for a prepaid card, confirm that your credit will be reported. Good prepaid options include Bancorp Bank Purple, Diamond Plus Prepaid Visa and RushCard (some may charge an activation fee).
Cards with a Co-Signer
With this option you're offering the issuer a guarantee in the form of your co-signer. By having the financial backing of a co-signer, your chances of getting approved are increased. Just keep in mind that if you don't keep up your payments the co-signer will also be affected.
Bad Credit?
Although major financial companies are more comfortable dealing with individuals that have great credit, quite a few offer alternatives to those with bad credit. The range of alternatives varies from higher risk, adjusted rates to traditional unsecured credit cards with comparatively low interest rates, to prepaid debit cards to secured credit cards. To determine the best one for you, you'll need to figure out how you plan on using the card and then begin looking at your options.
Good Credit?
If you have good credit your options are exceptional, packed with rewards, great interest rates and more. Rewards programs include cash rewards, fly all airlines, stay at the hotel of your choice, use anytime discounts, low interest APR's on your purchases, savings on gas and groceries, etc. You obviously still want to do your homework when it comes to choosing the best option for your specific needs.
Advice on Making Your Monthly Payments
The best way to maintain a good credit score is to pay more than the minimum due each month. Ideally you should pay the balance in full each month so you do not accrue heavy interest costs. Consumers who only make the minimum payment run the risk of defaulting on that account and can affect their credit score.
Don't rush the decision to choose a card. Do your homework beforehand so that you'll be happy with the your choice. Opening and closing accounts in the hopes of finding the right card will negatively affect your credit score. And before you sign up, be sure to read the fine print.
San Diego Homeowners May Want to Refinance While Rates Are Low
The Federal Reserve has started to taper their bond buying program. Lock in today's low rates and save on your loan.
Are you paying too much for your mortgage?
Find Out What You Qualify For
Check your refinance options with a trusted San Diego lender.
Answer a few questions below and connect with a lender who can help you refinance and save today!