Boat Loan Calculator
This calculator figures monthly boat loan payments. To help you see current market conditions and find a local lender current current San Diego boat loan rates and personal loan rates personal loan rates are published below the calculator. The second monthly payment budget calculator shows how expensive of a boat you can buy given a monthly loan payment.
Monthly Boat Loan Budget
Use this calculator to estimate the boat price you can afford given a set monthly loan payment. To help you see current market conditions and find a local lender current San Diego boat loan rates are published in a table below the calculator.
Current San Diego Boat Loan Rates
Consumer Boat Buying Guide
Homes and cars represent some of the most expensive single-item purchases individuals make during their lifetimes, but spending doesn't always cease at the shoreline. Boats add to the cost of living for water sports enthusiasts, who eagerly take-on the cost of ownership. And though boat buying is born of passion for the open water, a prudent approach makes the most of recreational budgets and ensures affordability.
As you prepare to take the plunge, due diligence guarantees a smooth transition to boat ownership. From choosing the best boat for your needs to securing reasonable financing, weigh your options carefully before making commitments.

How to Choose the Right Boat
First-time buyers can be intimidated by the selection process, especially without clearly defined expectations. In order to make an appropriate choice, it pays to answer a few questions before locking-in a particular craft. What is your primary use for the boat? Will the boat be docked in the water during the season, or trailered to destinations for each outing? How many people typically embark on your boating ventures? And, more fundamentally, is the boat to be used primarily on inland lakes, rivers, or oceans?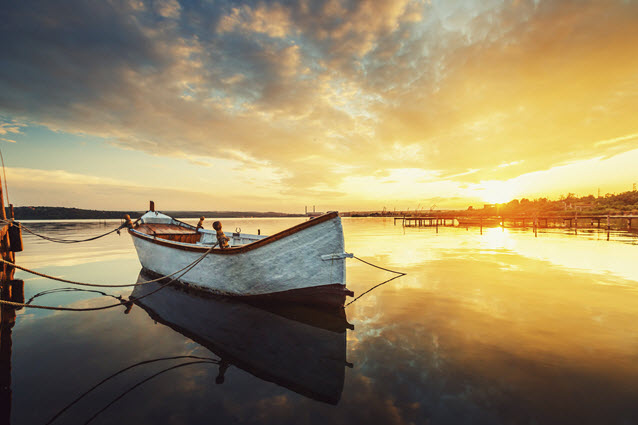 There are dozens of available boat styles, each aimed at particular functions. By dialing-in your requirements, it becomes easier to wade through various options, a few of which include the following boat classes.
Sailboats
Wind-powered vessels conjure romanticized visions, pairing Mother Nature's forces with deft maritime manipulation. But while the sentimental pastime is indeed boating's purest form, it requires a high level of skill to carry-off without incident. Unless you are an experienced sailor, or plan to secure the needed knowledge, a sailboat is probably not your best investment. Small, learning sail crafts, on the other hand, may help instill the basics, without putting you at risk.
Fishing Boats
Spending time on open water is a worthy pastime, in its own right, but many boaters have other interests in mind. Fishing vessels are set-up specifically for the task at hand, designed to accommodate casting and outfitted with features facilitating fish harvest. Live wells, depth finders, outriggers and other accoutrements cater to anglers, making dedicated fishing boats the most sought-after selections for fishermen and women. Size and cost depends upon the bodies of water being fished. Small, aluminum v-hull crafts, for instance, can be had for a couple thousand dollars, including appropriately sized motors. Massive, ocean-faring vessels, on the other hand, rival homes, in terms of their cost, especially when equipped with high-tech navigation and safety devices.
Pontoon Boats
Like small-scale party barges, pontoon boats are crafted for ease-of-use, comfort and elbow room. Their flat-floored decks are ideal for staying stable on the water, accommodating passengers without maritime experience. The namesake vessels rely on buoyant, air-filled canisters (pontoons) to stay afloat, enabling wider than usual construction suitable for several passengers. The configuration also allows for canopy coverage, to keep passengers dry during showers. Inland lake owners find pontoons to be versatile boating solutions, facilitating swimmers, anglers, and recreational cruisers alike. Modern versions are equipped with luxurious amenities, pushing prices higher with each deluxe add-on.
Speedboats
Aptly named, speedboats are designed to move through the water as quickly as possible. In addition to high-output motors, low-profile design creates less drag than taller crafts, enabling them to quickly reach high speeds. Some of these high performance models are equipped with multiple motors, to enhance horsepower and acceleration. Configurations vary, but many include partially enclosed cockpits for passengers and over-the-water pilots. Motor selection and appointments like luxury upholstery influence cost, but the price of high performance boats quickly climbs into the tens-of-thousands of dollars.
Ski Boats
Like speed-oriented vessels, ski boats have substantial get up and go. However, since the boats each serve a particular recreational function, they are also equipped with tow bars and other add-ons aimed at water skiers, tubers, and wake board enthusiasts. The boats typically run powerful inboard motors, contained within their hulls, and accommodate several passengers. In addition to platforms located near the stern, specialized versions are configured in ways suited for particular water sports. Skiers, for example, prefer smaller wakes than boarders, so boats can be set-up for the narrowly defined needs of each discipline.
Luxury Yachts
The cream of the crop for opulence and seafaring capabilities, luxury yachts are priced across-the-board. Depending upon size and materials, the most distinctive examples runs hundreds-of-thousands – even millions – of dollars. The vessels are capable of extended journeys, housing all the comforts of home, without sacrificing over-the-water performance. High-end navigation equipment, sun decks, onboard swimming pools, and restaurant style kitchens are common fixtures on these floating showpieces.
These are only a few of the dedicated boat varieties available.
When to Buy?
Like other consumer goods, boats come to market on a well-defined cycle. As a result, prices ebb and flow along with buyer demand. Holding to established economic supply principles, the best time to buy a boat is during periods of diminished demand. End of season clearance sales, for example, help dealers clear space for next-year's models, so promotions run during off-peak times often lead to deep discounts.
Late fall and winter months are particularly good times for most buyers to lock-in favorable pricing, but there is also a regional component at-play, influencing the cost of watercraft. On the West Coast of the United States, for example, boating is a year-round pastime, so the cost curve is not as clearly defined as it is in seasonal regions. On the other hand, spring and early-summer buyers will pay a premium in the Midwest or Northeast, where winter weather prohibits recreational boating during much of the year.
Boat shows are excellent resources for would-be buyers. The events facilitate side-by-side comparisons and furnish opportunities to gather information about various models. They are also selling occasions for dealers and manufacturers, so the shows can be good places for well-prepared buyers to land the best deals. Caution must be maintained, however, lest an impulse decision result in an ill-advised purchase.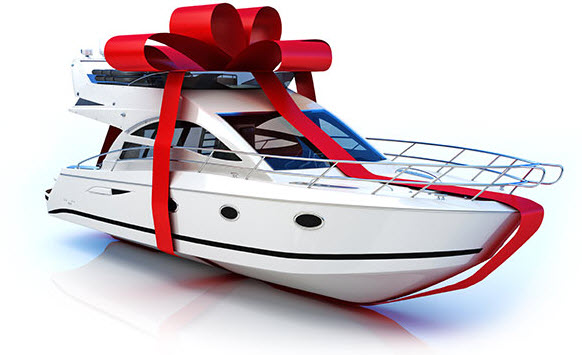 Ancillary Expenses Push Boating Costs Higher
Much like an automobile purchase, the sticker price of a boat is just the beginning, in terms of total cost. As you set the stage for a purchase, it is important to consider the following aspects of boat ownership – each with its own price tag.
Docking Fees – Depending upon where your boat will be stored or moored, annual fees may apply. Before buying a boat, research the cost of docks and storage facilities in your area. The cost is less significant for those seeking boats to store at home and trailer to and from the water, but even boat launch fees add-up during a busy boating season.
Trailer – Moving a boat relies on a functional trailer – ideally paired for a precise fit. In some cases, trailers are negotiated within the overall price of a boat, but other buyers secure them ala carte. Skimping on trailer quality and upkeep places your leisure enjoyment on the line, opening the door to breakdowns and damage to your craft. As a result, a sturdy trailer is an essential budget entry for anyone preparing to buy a watercraft.
License and Safety – Like cars, boats incur registration fees. Rates vary by location and most call for annual or bi-annual renewal. In addition to the cost of licensing, boat owners face safety mandates dictating the type and number of floatation devices required for safe operation. Lighting is also regulated, ensuring safe nighttime water travel. While some of these features are included within the purchase price of a boat, add-ons will often lead to additional expense for owners.
Insurance – Year-round insurance coverage is advisable, even if your boat is to be stored during the off-season. For the best rates, inquire with your automobile carrier, to maximize discounts. In addition to property coverage, boat insurance provides protection similar to auto policies covering bodily harm to passengers. On average, expect to pay around 1.5% – 2% of the value of your boat.
Crew – Depending upon the size of your boat, captain and crew may be required to operate it. If your boating dreams are yacht-sized, evaluate the cost of full-time mates, cooks and other needed personnel before committing to a purchase. First-rate staff may be more expensive than anticipated, influencing a down-sizing approach that enables you to pilot your own craft.
Service and Maintenance – Like other machines, boat motors require regular service to function at peak performance levels. Annual tune-ups keep motors lubricated, preventing premature wear on internal components. For those unable to perform routine tasks, service centers offer annual packages, which can be custom oriented to include storage, cleaning, motor maintenance and other needed protocols.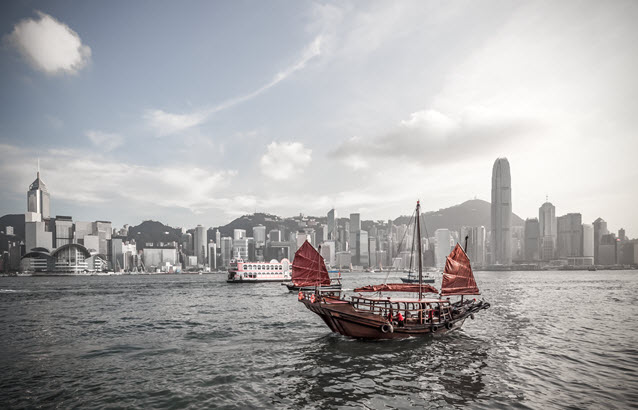 Financing Options for Boat Buyers
Like other major discretionary buys, funding a boat purchase often requires financial resources beyond cash on hand. Banks, credit unions and other traditional lenders furnish payment options for boat buyers, who rely on various forms of financing to get the job done. People with cash savings may choose to put the boat on a credit card to secure points. Buyers with a strong credit score might consider a personal loan. Homeowners with significant equity might consider a home equity loan. Boat buyers also turn to dedicated financing from maritime lenders, specializing in marine craft credit.
Buyers with good credit references tap collateral loans to pay for boats, in much the same way cars are funded. Once approved, funds are issued and the boat itself serves as collateral for the loan. Failure to make timely payments can result in repossession, allowing lenders to seize and sell boats to recoup their losses.
Another form of funding with versatile applications uses the equity in your home to guarantee repayment. Home equity loans and lines of credit can be used for various purchases, including recreational watercraft. In order to initiate equity credit, most lenders require a current appraisal. In addition, home equity lines carry closing costs similar to conventional mortgages. Because the loans are backed by real property, however, interest rates are lower than those associated with other forms of funding.
Personal loans can also be applied to boat purchases, furnishing fast access to needed cash. Interest rates on unsecured personal loans are higher than equity and collateral financing, but well-qualified applicants quickly fund boat buys using this straightforward alternative. Marine lending presents another option for buyers with solid credit. Geared exclusively toward boat shoppers, marine loan specialists understand the language and financing requirements unique to watercraft recreation. Dealers and private maritime lenders furnish dedicated boat loans, which typically do not offer low interest rates. Without pre-payment penalties, however, accelerated payback helps mitigate the high cost of marine loans.
Trouble-free ownership starts with selecting the right boat for your recreational needs. Once chosen, timing and research help yield the best pricing and finance terms for your dream watercraft. And though boat shopping is driven by enthusiasm for water sports and leisure marine activities, accounting for related expenses ensures a workable budget and rewarding maritime experience.
San Diego Homeowners May Want to Refinance While Rates Are Low
The Federal Reserve has started to taper their bond buying program. Lock in today's low rates and save on your loan.
Are you paying too much for your mortgage?
Find Out What You Qualify For
Check your refinance options with a trusted San Diego lender.
Answer a few questions below and connect with a lender who can help you refinance and save today!