Best Legitimate Work from Home Opportunities
If you feel tied to your workplace, home-based employment probably sounds like a good idea. In fact, you've likely seen promotions promising steady income, without leaving the house. Some of these are scams – if it sounds too good to be true, it probably is. Yet despite the interference from hustlers and cheats, some work from home opportunities are legitimate, creating added income streams, and even primary employment, for successful at-home workers.
Traditional employment takes many forms, creating diverse work environments at offices, warehouses, and other commercial facilities. And though these conventional locations account for most jobs, home-based work opportunities are growing in number. For starters, full-time and part-time telecommuting openings have become more common, gaining momentum as more and more companies embrace the practice. And you don't need to be a regular corporate employee to benefit from the professional culture shift; self-starters are also finding ways to make money at home.
Ambitious entrepreneurs are well suited for homespun ventures. If you have a good idea and a solid business plan, it may be the start of a successful home-based business. Disciplined service providers also find success working at home, by contracting with companies that outsource certain tasks. Your solid reputation and the ability to complete the work are all that's needed to generate income as a home-based service provider. Stable performance can even help you qualify for a self-employed mortgage.
Homeowners May Want to Refinance While Rates Are Low
The Federal Reserve has hinted they are likely to taper their bond buying program later this year. Lock in today's low rates and save on your loan.
Are you paying too much for your mortgage?
Find Out What You Qualify For
Check your refinance options with a trusted lender.
Answer a few questions below and connect with a lender who can help you refinance and save today!
Workers in some fields have an advantage, enabling them to construct work scenarios based from their apartments or houses. Other jobs simply can't be done at home. Computer work, for example, requires connectivity and office space, which are already found in most homes. Creative output, from photographers, artists and authors can also be produced from home, without special equipment or facilities. Business services, consulting, and web-based sales ventures furnish additional, feasible household enterprises, because your home is equipped with the tools necessary to carry-off such work.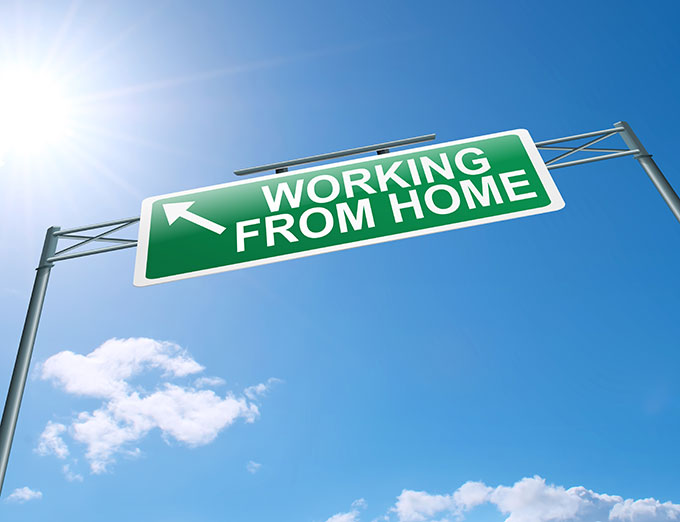 Whether you are starting a business, adding post-retirement income, or simply seeking a telecommuting job, the modern marketplace provides countless work from home opportunities to explore.
Entrepreneurs Find Home-Based Success
Self-starters operate in most realms of business, including work from home employment. Whether reselling collectibles online, or maintaining a small, home-based service business, opportunities abound for entrepreneurs with fresh ideas.
Online Auction Sales
Technology and social advances create fresh money making opportunities; eBay, for instance, changed the playing field for second hand sales. Launched twenty years ago to share collectibles, sales on the site have grown to encompass every pre-owned category, as well as new, branded items. The scope of eBay enterprises ranges from casual, occasional sellers, to professionals drawing substantial income from their online marketing efforts. Overall, it has become one of the most popular ways to make money online.
Additional channels exist beyond eBay, including Amazon and Craigslist, the locally based resource for sellers conducting in-person transactions. Central to eBay's success, however, is its comprehensive feedback system, which helps bridge trusting relationships between buyers and sellers, who seldom interact beyond bids and shipments. Regardless of where you concentrate sales efforts, proven principles guide success selling online.
Stay Ahead of Trends – Like other retailers, successful eBay sellers learn to promote in demand products to a public hungry for certain items. By staying atop trends and anticipating cycles, you'll be in and out with a tidy profit before competitors catch up with social developments.
Strike Quickly – Supply and demand influence home-based sales, so it is important to capitalize on each online sales opportunity – before it disappears. Collectibles markets, for example, ebb and flow alongside general economic conditions and other forces, which can quickly reverse the value of particular items. Prudent stay at home sellers quickly close deals, when fair offers are on the table. Holding out for top dollar, on the other hand, leads to losses for those unable to efficiently move merchandise.
Provide Service – Selling online is not a passive undertaking. On the contrary, holding yourself out as a seller creates customer service expectations. Fortunately, online auction sites provide various tools, enabling sellers to communicate and conduct transactions with buyers. Still, it is up to you to create and reinforce a positive image, so customers leave favorable feedback and make repeat purchases. The more time you devote, crafting understandable, visually descriptive postings, the higher auction bids you'll attract. And when issues do arise, handling them swiftly and satisfactorily reinforces public relations for your online "brand".
Child Care
The most successful domestic businesses speak to prevailing needs. As busy parents know, reliable child care is among the most important features of everyday life. If your education and experience include early childhood learning, or if you have children of your own, home-based child care might be a viable business to operate without leaving home. Licensing requirements vary across municipalities, so it is essential to account for legal mandates unique to your region.
Accounting Services
Not every business or individual requires a CPA firm to handle routine money matters. However, small businesses and personal number-crunchers do need guidance and accounting services. If you are familiar with financial protocols – perhaps through prior employment, serving as an independent book keeper can help you generate income.
Professional accountants are able to supplement earnings by taking-on side work, but ambitious entrepreneurs find providing services can grow into legitimate full-time employment. Small business mandates, for example, typically include the following needs – many of which call for ongoing attention.
Monthly Reconciliation – Tracking sales and cash flow is essential for growing revenue totals over time, yet many business owners lack needed expertise in this area. Stay at home service providers help financially challenged business men and women stay atop monthly trends, enabling them to make profitable adjustments to ongoing operations.
Payroll Services – Calculating payroll totals and ensuring proper withholding are essential responsibilities shared by business operators. Working from home, skilled entrepreneurs fill vital roles, providing reliable calculations for businesses and self-employed individuals.
Consulting
Acquired knowledge has inherent value, so consulting services are realistic money makers for retirees and others looking to supplement household cashflow. Legal consulting, for example, is an adjunct revenue stream for experts offering advice from home. Other legitimate business consulting jobs can also be run from a house or apartment, because consultants set their own contract terms, simply writing-in their work-at-home preferences.
If you have a unique skill set or experience in a particular area, it can be turned into a home-based consulting business – even if it is for related services. A real estate professional could start a business staging listed homes, or a business specialists might focus on a particular segment of the industry, sharing his or her experience for a fee.
Once you've committed to the idea, widespread resources are available to help you get established working from home. The following connections, for example, bring together providers and the companies in need of their services.
FlexJobs – Professional job service helping professionals find flexible, telecommuting positions.
Working Nomads – Provides a curated list of remote work opportunities, aimed at digital jobs for modern providers on-the-move.
We Work Remotely – This resource eschews the constraints of traditional workplace environments, promoting listed remote jobs in areas like programming, design and customer support.
Staff.com – Using its global talent pool, Staff.com links registered workers with job opportunities – including chances to make money working from home.
Virtual Vocations – This database assembles telecommuting employment opportunities, screening postings and linking workers with available work.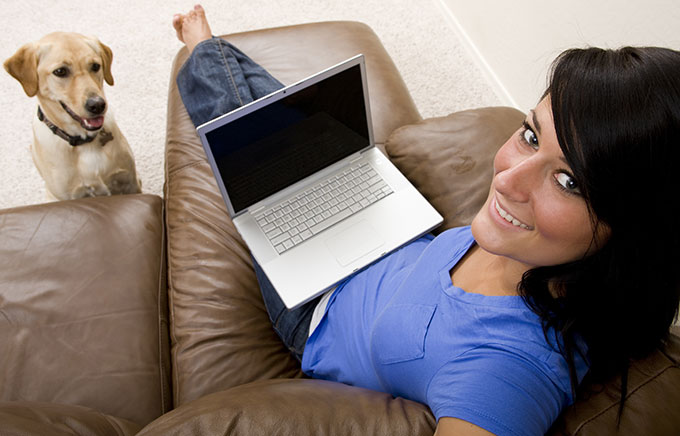 Creative Output Delivers Profits
Various forms of creativity have commercial value. Communication, for instance, now includes blogs and social media outlets, calling for engaging content. In-demand authors and Web specialists have emerged in fields that didn't even exist a decade ago, and much of the work is conducted from home. Whether you are a mom with extra time to earn some money, a retiree looking for supplemental income or a creative entrepreneur launching a home-based venture, artistic expression can lead to profits – without leaving your home office or studio.
Photography
If you're able to produce stunning images, your hobby can translate into profits. Portrait work, shooting students, as well as wedding photography are niches enabling creative talent to earn and learn by working professionally. Fine art, food and travel are other in-demand subjects, furnishing additional opportunities worth exploring. Though much of the work processing images can be done at home, shooting on location requires some time away from home base.
Digital media makes efficient work of photography, so freelance work is now accessible to a wider pool of photographers. If you have limited time to devote to photography side jobs, digital cameras and instantaneous file transfers make it much easier to pursue, than it was when paper prints were the standard.
If you are a writer looking for another profitable, creative outlet, photography can expand your income potential. In addition to offering your services to others, pairing your photographic skills with solid writing is all that's needed to maintain a productive, profitable blog. Visually tempting food sites, for example, are prolific reminders of how easy it is to pick up a camera for highly satisfying results.
Providing Written Content
Skilled writers are always in demand, particular in an age when "content is king." Web-based marketing plans call for onsite content, as well as blogs and supporting efforts requiring proficient copywriters. In addition to general topical material, web and print resources call for experts in various fields, which keeps writers working from home at all levels within the modern communication marketplace.
Bloggers, in particular, have found a voice across the Web. There are several ways the communication channel can be turned into profits for individual authors. Impassioned writers, with something to offer, turn their own blog brands into income, by monetizing them. Affiliate advertising and other possibilities create cash flow for blog owners, linking their posts to commerce and lead generation. Authors working from home are also called upon to stand-in, as guest bloggers for site owners, covering wide-ranging subject matter. Freelance writers are paid per piece, typically remaining anonymous as others claim credit for their output. Sites like TextBroker act as a network of writers. Authors with known expertise on a topic may be able to obtain higher paying jobs by being listed on sites like Ebyline.
The following resources will help you find creative work:
Authentic Jobs – Full-time and freelance job opportunities are posted here, including creative positions as interns, producers, developers and content providers.
Dribble.com – This site maintains job listings for designers (see below).
Krop – Creative, design and tech jobs are listed here, helping freelancers find assignments within their fields.
Sensational Jobs – Authors, copywriters and digital designers find work here – among others.
Creative Hotlist – Narrow your job search with this board, dedicated to creative fields. Designers, project managers and even marketing executives will find work here.
Designing/Optimizing/Developing
Web specialties lend themselves to remote work opportunities, so business conducted online is ideal for home offices. And with so many services in-demand, it is possible for skilled providers to stay working from afar. SEO services, for example, furnish expert guidance drawing traffic for site owners. These and other advanced strategies are often beyond the technical level attained by small businesses and internet entrepreneurs, prompting them to outsource jobs to experts. From building and hosting websites, to providing and managing content, freelance work from home opportunities are widespread for IT professionals.
Graphic web designers and developers assist by building the best platforms for their clients' needs and maximizing visual and interactive experiences for site visitors. With skills in these areas, working from home is a realistic possibility, especially for providers serving a diverse skill set. If your design dreams include home-based, freelance work, look to these sites for help finding assignments:
Design Jobs Board – Aimed at skilled creative talent, this job board stresses tech employment and freelance design opportunities.
DSGN JBS – Production assistant, graphic designer, project manager, and designer are a few of the jobs posted here.
rubynow.com – Exclusive to Ruby developers, this board links specialists with employers.
stackoverflow.com – this community of developers boasts millions of connections, furnishing access to job postings for developers and other tech-minded freelancers.
Editing/Producing Graphics/Managing Web Projects
As media companies fill vital content needs, they often require assistance organizing and managing projects. And as material moves through print and digital campaigns, editors are also needed, to ensure only the best content is published. While some organizations fulfill such services using in-house talent, others turn to outside providers. If your skill set includes attention to detail and organizational strengths, you are a valuable work from home asset, for companies outsourcing editorial and management jobs.
In increasingly visual, mobile, digital markets, producing engaging content goes beyond text. As a result, video jobs, employment developing infographics and side work creating other specialized content have emerged as realistic stay at home opportunities. In addition to production and design staff, various media outlets rely on independent contractors to manage large-scale marketing efforts and social media campaigns. Bracing for challenges and knowing the value of your work are keys to success, in a field where networking and a diverse skill set help keep work flowing through your home business.
Hand Crafted Originals
Artistic output includes crafts and other saleable items. Seasonal goods, for instance, furnish revenue streams for creative hobbyists. If you can sew, knit, or sculpt appealing pieces, extra income is at your fingertips. Goods are sold by word of mouth, at shows and seasonal events, and through traditional auction sites.
Etsy remains popular among independent crafters, though the site has come under fire for sacrificing its homespun roots, in favor of large-scale commercialism. Still, unique arts and crafts bring buyers, so making decorative and functional items is a worthy pastime for at home moms and others seeking ways to make money without leaving the house.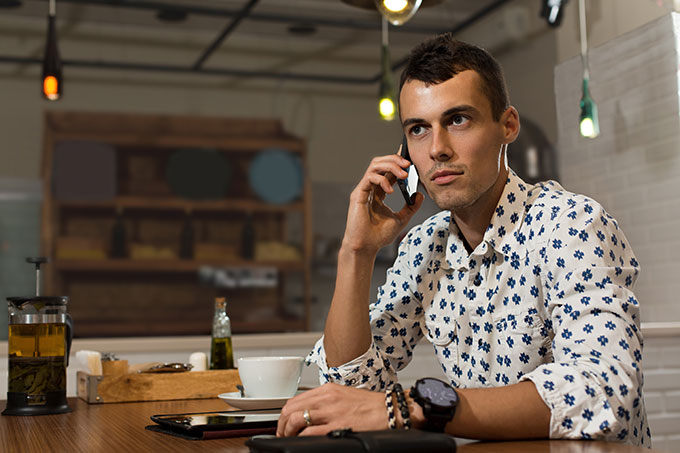 Money-Making Services for Hire
Work-at-home opportunities include full scale entrepreneurial ventures and casual creative pursuits, but on demand employment also involves contract projects for hire.
Unfortunately, opportunistic criminals have devised scams targeting people working from home. Failure to pay and other forms of fraud are commonplace, so it is important to vet potential clients or contract employers before engaging. Due diligence includes a look at the companies or individuals offering work, as well as thorough understanding of the jobs at hand and expected compensation. If you do not feel comfortable with a particular arrangement, follow your instincts and move along to the next opportunity. In time, you'll learn to source and recognize legitimate jobs, so you don't waste time on dead-ends.
Legit prospects have nothing to hide, so jobs worth landing are straightforward business transactions, requiring you to complete tasks or provide deliverables, in exchange for payment. It is important to remember upstanding organizations outsource jobs to save money and fulfill needs, so legitimate relationships are a two-way street, benefitting workers and the companies needing talent. When you see job posts promising ridiculously high pay rates and "opportunities" requiring an initial cash investment, they are probably scams. Still other work from home options are above board, but pay very little. Amazon's "Mechanical Turks", for instance, fulfill rudimentary tasks for pennies each, relying on volume to grow income. Even so, participants commonly make far less than minimum wage.
Virtual Call Centers
Outsourced customer service now spans the globe, so widespread openings exist for home-based agents. In addition to standard job requisites, secure home offices must be available, from which to conduct business. Excellent for moms and employees needing flexible employment, home phone work includes billing assistance and customer care. In many cases, order takers have also moved from centralized locations, instead working remotely to assist customers placing requests for goods and services.
Depending upon the requirements of each position, background checks may also be imposed by employers, to ensure remote operators maintain high standards on the job. If your record is clean and past employment includes customer service work, it is easily translated to household income – regardless of your location. As a home-based representatives you can expect to take reservations, place orders, resolve complaints and even make marketing calls.
Tax Preparation
Each tax season, tax prep services hire temporary staff to accommodate the early-year spike in state and federal filings. Though some jobs require onsite training, working from home is approved for qualified tax preparers. Advanced accounting skills are not required, in part, because tax services invoke proprietary software, which enables part-time, seasonal workers to catch on quickly. Align yourself only with reputable providers, however, and make sure you meet legal expectations for the area in which you work. Check the following sites for current listings:
Upwork – Tax preparation work is seasonal, so the number of posting found here peaks during filing months.
Elance – Linking providers with job posters, Elance regularly places accountants and tax preparation specialists.
freelancer.com – Job posting run the gamut here, including those aimed at tax return preparers.
Academic Tutors and Subject Matter Specialists
Tutors find success working at all scholastic levels, teaching general skills and helping students master isolated subjects. In some cases, tutors help students reach a minimum standard, while other efforts strive toward scholarship-level academic excellence. In fact, some students only need specialized assistance when preparing for college entrance exams or foreign language tests.
Teachers and topical experts are well-suited for sharing their experience, tutoring those in need, while simultaneously generating cash flow at home. And given the growth of virtual learning alternatives, more online instructors are contracted for remote positions, than ever before.
Care.com – This site matches the strengths of each tutor with the precise needs of each student. Math, foreign language and ESL tutoring jobs are commonly posted.
GreatAupair – This Web resource helps families cover domestic needs, including tutoring jobs for students of all ages.
tutor.com – Online tutors are registered here, and then matched to rewarding home-based tutoring assignments.
Professional Translation
Professional translators are in-demand, as global business operations expand across diverse languages. And though there are automated options available, machine translation lags behind the quality level put forth by professional translators. Apps and programs help speed up the process for amateurs and professionals alike, including cutting edge translation tools that actually use memories of successful translation to expand understanding, leading to the most accurate interpretations possible. Forums and marketplaces connect clients with translators and interpreters working from home, enabling a bonafide revenue stream for committed, multilingual self-starters.
Medical Transcription
Transcribing medical dictation is another keyboard enterprise commonly launched by independent contractors. Listening and deciphering sometimes difficult, technical material, medical transcriptionists require little more than a personal office to conduct business. The role has been essential for years, so some work at home scams target the familiar home-based opportunity. Prospective employers requiring you to buy software or pay for training may not be legit. Above board virtual transcription resources are available online, linking providers with vetted clients in need of services.
At-home employment brings satisfaction and monetary rewards for those lucky enough to beat the odds. Flexible work from home alternative serve parents, disabled individuals, retirees and military spouses, frequently on the move. Long-term success calls for dedication and a self-starting mentality, enabling workers to overcome the unique challenges of generating in-house cash flow. If you are disciplined and motivated, there is probably a an employment niche for you to fill from home.
Traditional roles include data entry positions, customer service jobs, and creative pursuits, like writing and design work. And as business goes global, telecommuting opportunities for professionals continue to expand among major corporations. In addition to any number of entrepreneurial ventures, consultants, educators, accountants and other high-profile professionals now practice from remote home offices, rather than centralized facilities. At the same time, customer service providers once tied to brick and mortar call centers have also shifted to remote delivery, enabling contractors to successfully fill orders and resolve customer issues, without leaving home.
Openings for home-based work are more prolific than ever before, but so are scams targeting job seekers. By some estimates, dozens of scams are posted for each legitimate job announcement. Most are easy to spot, promising unrealistic rewards or calling for cash investments up-front. If you are serious about home-based employment, use persistence and research to uncover bonafide opportunities. For the best results, use your entrepreneurial passion to carve out a viable niche, or tap job boards and freelance communities to land assignments and build your reputation.
Temp Jobs
Companies like Lionbridge and Leapforce provide temporary staffing solutions for some of the larger tech companies like Facebook and Google. Some of these jobs may be a good fit for many people, but reviewing disturbing content can be hard.
Micro Gigs
Amazon's Mechanical Turk allows people to do repetitive quick tasks for small sums of money. There are a number of competing smaller platforms like MicroWorkers and JobBoy. It can be hard to make a strong income on these sorts of platforms, but they can provide incremental income by allowing you to do multiple things at the same time. If you have a particular skill or gig which is quick to do, but doesn't fit into one of the above sorts of categories there are also sites like Fiverr which allow people to price various tasks or offerings like voiceovers, drawings, or help with some technical problem at various price points.