What Home Sellers Need to Know About Ibuyers
You've decided to sell your home, and you want to do it as quickly and efficiently as possible.
Perhaps you've accepted a new job across the country and you need to sell the old house and move to your new home on decidedly short notice. Maybe you've simply found a new home for your growing family but can't afford to maintain two properties, especially while one sits idle on the market.
Whatever your reasons, you have neither the time nor the inclination to deal with real estate agents and the long, drawn-out process of listing your home, getting it show-ready, holding open houses, and trawling through endless bids and offers to land a sale.
So what can you do?
A growing trend in real estate may hold your answer. If you want to sell your home quickly and with a minimum of fuss, you might consider selling it to an iBuyer.
What are ibuyers?
iBuyers are tech-based companies that purchase homes directly from their current owners. Sellers avoid the often lengthy sales process of renovating and staging a property, conducting showings, reviewing offers, and waiting for funds to clear escrow. Instead, they simply provide the iBuyer with some specific data points (the house's age, condition, zip code, etc.) and using a proprietary Automated Valuation Model (AVM), the iBuyer estimates the home's current and future value and makes a cash offer for the property.
The homeowner is free to accept or decline this offer as they see fit. If they decide to accept the iBuyer's offer, the sale will go through immediately and the seller receives their cash payout within a few days of the final closing date.
Once the sale is complete, the iBuyer assumes all responsibility for the property. In most cases, an iBuyer's intention is to resell the properties they purchase on the open market. Toward that end, they will handle any necessary renovations and assume the risks in getting the house show-ready and primed for sale.
The risk that iBuyers assume in purchasing often distressed properties directly from homeowners for reselling, is typically reflected in the offers they make to those same potential sellers. The more risk each property presents, the less the subsequent offer would be to the seller.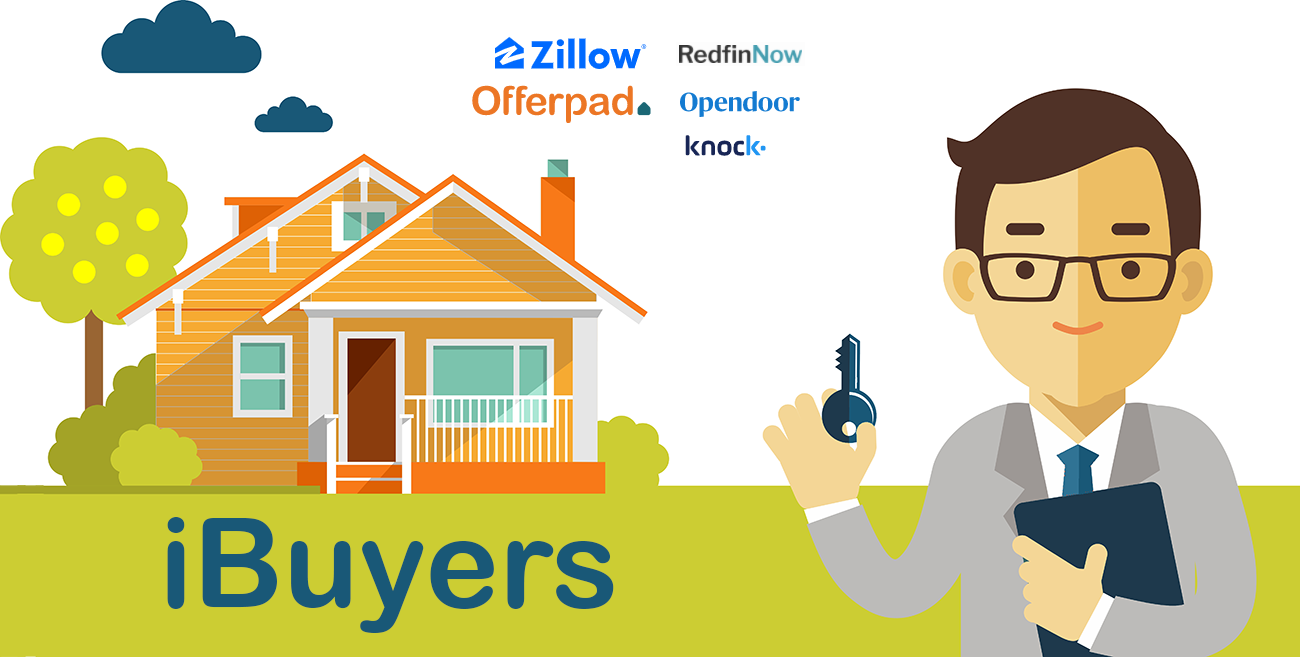 Current Market Leaders
iBuyers currently make up a small, but growing, percentage of the overall real estate market. While the iBuying trend is still in its early stages, there are already a few organizations who have established themselves as leaders in the industry.
Most of these companies restrict themselves to specific regional markets, expanding as opportunity allows. Some of the more notable iBuyer organizations today include:
This is by no means an exhaustive list of iBuyers currently operating in the US. There are quite a few smaller firms with specific regional focuses such as Amne (exclusive to Austin, TX), Offerdepot (operating in Phoenix) and Perch (serving Dallas and San Antonio exclusively). As the iBuying trend gains traction with the public we should expect to see movement through all viable markets across the country.
What Markets Attract iBuyers?
The majority of iBuyers appear to be limiting their services to select markets. Even national firms like Zillow are restricting their "Instant Offers" program to those regional markets they feel offer the greatest opportunity for profit.
Currently, iBuying programs tend to focus on specific areas of the country, most notably the South-East (Florida, Georgia and the Carolinas), the West coast (California, Nevada and Arizona) and a few select states, such as Texas, Utah and Oregon.
A clue to why these iBuying companies are focusing certain regions of the country may be found in the customers they are targeting. iBuyers are typically looking for customers who fall into a few distinct categories, including:
Veterans
Empty Nesters
Millennials
Relocation Buyers
These segments of the population are particularly attracted to the ease and simplicity of an iBuyer home sale, and so the leaders in the iBuying industry are focusing their programs on the areas of the country that offer better access to these types of customers.
What Types of Homes are iBuyers Purchasing?
iBuyers are as specific about the homes they purchase as they are about the regional markets they're targeting. Firms like Opendoor and Offerpad aren't buying just any old house they are offered. They have very specific criteria that sellers must meet before they'll consider making an offer on a property.
iBuyers tend to limit their purchases to homes that meet the following requirements:
Valued between $150,000 and $600,000;
Built after a certain year (there are exceptions, but most will have a strict cut-off point for older homes);
Good, or better-than-good condition;
Desirable location with steady or improving property values.
How does iBuying Work?
The iBuying process has been designed to be quick and easy for the seller. The homeowner/seller simply goes online and answers some specific questions about the property to sell. For example, typical questions might include simple items, such as:
Where is the property located?
What is the general condition of the house?
How many bedrooms and bathrooms does the house have?
What added amenities are included (pool, mother-in-law quarters, gated access, etc.)?
What improvements have been made to the property (solar panels, new roof, HVAC, landscaping, etc.)?
How soon does the homeowner want to sell?
In most cases, the iBuyer will want to have the property inspected for any potential problems such as structural damage, water damage, mold or other issues that would impact the value of the home. These issues are not necessarily deal breakers for an iBuyer, but the amount of rehabbing necessary to prepare the property for sale on the traditional market will have a direct effect on the final sale price.
Using the information provided by the seller, in addition to data gathered independently, the iBuyer will use a proprietary algorithm to determine the value of the property in question. They will then make the seller an offer on the property. If the seller accepts the offer, the sale can often be completed in as little as 7 business days.
Once the sale is completed, the buyer will prepare the property for resale at a profit. They perform any repairs that may be necessary, all the cleaning and painting for optimal staging, finally listing the property on the open market, and finding a willing buyer.
How Much do iBuyers Pay for Homes?
iBuyers charge higher fees for their services than a traditional real estate agency. This is because of the inherent risks assumed when they purchase a property. Once the transaction is completed, the buyer is responsible for rehabbing the property and getting it ready to sell. It may sell quickly, or it may sit on the market for an extended period, during which the buyer is responsible for upkeep and taxes…all of which figures into the final price iBuyers will pay homeowners for their properties.
As a general rule, iBuyers pay between 75% and 85% of perceived market value on the homes they purchase. There are also fees to consider, which will cut into the final sale price. Fees tend to range from between 6% to 9% of the final purchase price, depending on the company.
So, for example, a low-ball offer on a home valued at $250,000 might be $187,500. Subtract an additional 6% in fees, or $11,250, and the total closing price of that home would clock in at $176,250. That's substantially less than a seller would likely make going the traditional real estate route, but ultimately you are paying for the convenience of a quick sale and an immediate cash payment.
When Does it Make Sense to Sell to an iBuyer?
iBuying appeals to a select group of sellers. Naturally, the convenience of a quick sale and instant cash is the largest part of the attraction. As a homeowner it may make sense to sell to an iBuyer, especially if you find yourself in any of the following situations:
Relocating for Employment – A new job may demand immediate relocation, and there may simply not be time to list and sell your current home with a real estate agent. If you have to move immediately to take up a new position, and you don't want to carry two mortgages while you wait for your old home to sell, an iBuyer might be the ideal solution.
Purchasing a New Home – The purchase of a new home generally requires the sale of your current home. Few families can afford to carry two mortgages while waiting to complete the sale of their old house. An iBuyer can provide quick cash for your current home so you can afford to close the deal on a new property.
Avoiding Costly Repairs – Home repairs and renovations can be costly and time consuming. If you want to sell your current home, but don't have the time or the money to invest in the necessary repairs to get it market-ready, selling to an iBuyer may be an easy alternative. Understand, however, that the cost of repairs and renovations will figure into the iBuyer's offer.
Disposing of Rental Properties – If you own a rental property that is currently vacant and costing you money a quick sale to an IBuyer might be a sound financial move.
Changing Family Circumstances – If you've inherited a property that you don't want to keep or can't afford to manage selling to an iBuyer offers a quick solution. Likewise, if you're going through a divorce and need to sell a property quickly so that your assets can be divided upon dissolution of your marriage selling to an iBuyer may be sensible option.
How Large is the iBuyer Market?
iBuyers currently make up a relatively small percentage of the overall real estate market. This is to be expected, particularly considering that most firms are strategically focusing on specific areas of the country.
Nationally, iBuyers account for approximately 0.2% of all home sales. However, in Phoenix (by far the largest iBuyer market in the country), they account for as much as 6% of all transactions.
While iBuying currently makes up a small part of the real estate market, industry experts expect to see steady growth over the next few years. Brad Berning, a research analyst with the Craig-Hallum Capital Group, estimates that iBuyers could account for upwards of 10% of the existing home-sale market by 2021.
Zillow believes this model will help grow their annual revenues to $20 billion: "Let me back up to the $20 billion dollar number. That is about one percent of the gross transaction value in a year in this market, in the overall real estate market. We think Phoenix and Raleigh, two markets that are fairly older markets for iBuyer, we think they are at ten percent penetration right now." - Zillow CEO Rich Barton, March 6, 2019
A New Model, Gaining Traction
While iBuying is still a relatively new business model it is quickly gaining attention from both the traditional real estate market and public at large. The convenience iBuyers offer makes them attractive to homeowners looking to sell their properties quickly and with a minimum of effort.
Whether or not iBuyers will carve out a substantial chunk of the real estate market remains to be seen. But for those home sellers who are looking to access the equity in their homes quickly and efficiently, iBuyers offer an enticing alternative to the more traditional real estate agency.
San Diego Homeowners May Want to Refinance While Rates Are Low
The Federal Reserve has hinted they are likely to taper their bond buying program later this year. Lock in today's low rates and save on your loan.
Are you paying too much for your mortgage?
Find Out What You Qualify For
Check your refinance options with a trusted San Diego lender.
Answer a few questions below and connect with a lender who can help you refinance and save today!