Save Energy, Save Money
Envision your home as separate from the outdoors—a great way to think of it is like your skin. Your skin is what keeps your insides in and protects your internal organs from outside exposure. Your home's structure is like your skin. It envelops you. It keeps your home safe, the components of it interacting with each other, not the outdoor environment. The walls, doors, windows, roof, foundation and insulation work together much like your blood and internal organs work together to cool you and to keep you warm and dry when you need to be.
Home energy efficiency is a two-fold scientific system. Energy-efficient homes keep your home heating and cooling systems working together to keep you comfortable by using programmable thermostats, Energy-Star appliances and zone heating and cooling to regulate temperature. The second system, the outdoor environment, can be used to promote energy efficiency like clothing keeps your skin and body cooler or warmer. Landscaping choices, such as using trees to shade windows or to provide windbreaks promote energy efficiency.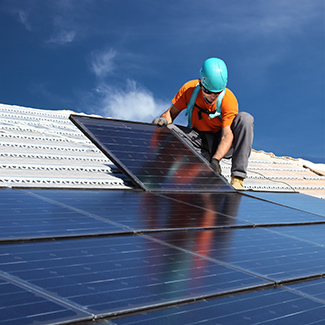 Insulation is one of the most important parts of your home. It keeps your home airtight; affecting both a sturdy thermal and a pressure envelope so that your home's heating and air-conditioning can do their jobs. If air leaks penetrate your building envelope that means that you could be losing energy and throwing money out the window. The key to energy efficiency is to maintain occupant comfort level, not to continually establish it.
Let's go back to the skin analogy. In order not to get sick, your body must continually exchange carbon dioxide and oxygen through your respiratory system. It's not just breathing through your nose and into your lungs, but your pores. Your home operates the same way. If you stay indoors with everything closed up when you have the flu, the flu microbes recirculate through the air, reinfecting you. If your home is so tightly enveloped, it's tough for natural air exchanges to take place. Thus your home, on its way to energy-efficiency, can actually be polluting your environment—and your family's health. Carbon monoxide is one of the main culprits—and it can kill you without warning.
Your home's energy envelope also helps reduce your energy footprint on the world. Installing air exchangers, Energy-Star appliances, storm windows and doors, weather stripping doors and windows, and caulking air leaks can lead to fewer emissions that can harm the environment, your health and your pocketbook.
Check out these links to see how your home can benefit from an energy audit, using energy-efficient appliances, heating and cooling systems, lighting and landscaping design.
Building Envelope
Space Heating and Cooling
Water Heating
Lighting
Appliances
Landscaping